10 Yummy Slowcooker Soup Recipes
Winter is here and that means we're eating a lot of soup. There's just nothing better than coming home to a nice warm pot of soup. Just whip up some biscuits to go with it, make some toast, or dust of the bread maker and start some bread when you're starting the soup in your crockpot.
Below you'll find 10 of my favorite Slowcooker soup recipes. These make a regular appearance on my weekly meal plan. Not only are soups absolutely delicious, they are also quite frugal and by using your crockpot you don't have to worry about stirring pots all day.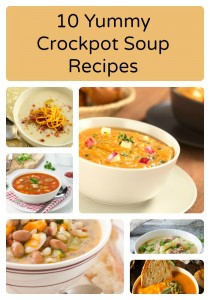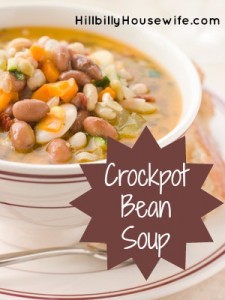 1 lb bag or 2 cups mixed beans, soaked overnight
7 C water
1-2 lbs ham, cubed
1-2 pressed cloves garlic
salt, celery salt, and pepper to taste
1 small onion, chopped
1 Tbsp Italian seasoning and/or Herbs de Provence
Put all ingredients into your crockpot and cook on LOW for 8 hours.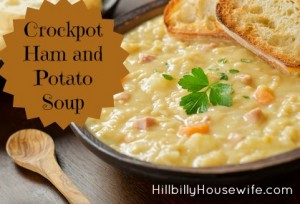 3-1/2 cups peeled, diced potatoes
1/3 cup chopped celery
1/3 cup finely chopped onion
¾ cup diced ham
3-1/4 cups water
6 chicken bullion cubes
½ t. salt
1 t. pepper
5 T. flour
5 T. butter
2 cups milk
Stir all but milk, flour and butter into crockpot. Cook on low for 6-8 hours, check tenderness of potatoes. 20 minutes before serving, melt butter in a saucepan, add flour and gradually add milk, stirring constantly over med heat until thick. Stir mixture into crockpot. Let cook 15-20 minutes more.

1 small onion, chopped
2 large carrots, peeled and thinly sliced
1 medium zucchini, sliced 1" thick
2 cloves garlic, minced
2 15 oz cans kidney beans, drained
6 cups beef broth
1 28 oz can diced tomatoes, undrained
1 t dried basil leaves
½ t. dried oregano leaves
½ t. salt
¼ t. pepper
2 cups cooked small pasta
¼ cup grated Parmesan cheese
Combine all ingredients except macaroni and Parmesan cheese in the stoneware. Cover cook on Low 8 to 9 hours or on High 4 to 5 hours. Stir in macaroni. Serve sprinkled with cheese. I substitute 1-1/2 t. Italian seasoning for the basil and oregano.
1 small onion
2 white potatoes
3 Sweet potatoes
2 apples, cut into 1 inch pieces with the skin left on
3 cloves garlic
½ teaspoon salt
¼ teaspoon cinnamon
⅛ teaspoon ground clove (optional)
4 cups chicken broth
2 tablespoons butter
Start by preparing your veggies and fruit. Scrub the potatoes really well and cut them into one inch chunks.
Peel the onion and give it a rough chop.
Core the apples and cut them into one inch pieces as well. I leave the peel on since it will blend into the soup and adds extra nutrition.
Chop or crush your garlic.
Add the veggies and fruit along with the salt and spices to your crockpot. Pour the chicken broth over everything.
Cook the soup on high for 5 hours.
Puree the hot soup either in batches in your blender or use a hand immersion blender right into your crockpot.
Stir in the butter and serve.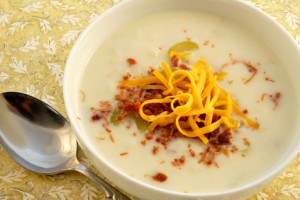 6 large baking potatoes
1 large onion
3 cloves garlic
1 quart chicken broth
¼ cup butter
2½ teaspoons salt
1 teaspoon pepper
1 cup half and half
1 cup shredded sharp Cheddar cheese
3 tablespoons chopped fresh chives
1 cup sour cream
8 slices bacon, cooked and crumbled
Extra Shredded Cheese for topping
Peel and cut your potatoes into small chunks. Chop the onion and garlic.
Put your chopped veggies, chicken broth, butter, salt and pepper into the crockpot. Cover and cook on HIGH for 4 hours or LOW for 8 hours .
Mash mixture with a potato masher until potatoes are coarsely chopped and soupy is slightly thickened. Stir in cream, cheese and chives.
Ladle the soup into bowls and top each with sour cream, bacon and a little extra cheese.
3 large onions, thinly sliced
¼ cup butter
4 cups beef broth
1 t. Worcestershire
¼ t. salt
4-5 slices French bread, toasted
¼ cup Parmesan cheese
In slow cooker, combine onions and butter, broth, Worcestershire and salt. Cover and cook on HIGH 4-6 hours. Pour hot soup into bowls and top w/ bread and sprinkle w/ cheese.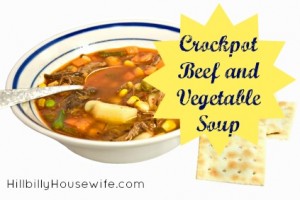 6 beef bullion cubes
large pkg. 2 lbs. frozen mixed vegetables (I save left over veggies and use those)
2 pounds beef roast, cut into pieces or can use left over beef
salt and pepper to taste
1 (12 oz can tomato paste
6 cups water
Pour ingredients into 6 qt. slow cooker and stir well. Cover and cook on low 8-10 hours. Serve w/ cheese toast or grilled cheese sandwiches.
1 pound ground beef
2 cans Rotel
3 cups cooked beans of your choice, (2 cans)
1 can corn (optional)
1 pkg. taco seasoning (2-3 T. bulk)
1 pkg. ranch dressing mix (optional)
8 oz tomato sauce
1 chopped onion
2 cups water
Brown beef in skillet w/ onion. Drain fat and add to crockpot. Add all other ingredients (do not drain cans), and stir to mix. Cover and cook on low 8 hours or HIGH 4. I usually add more water and a little more bulk taco seasoning powder to make it more soupy.
2 cups of cooked turkey
4 cups water
4 cups turkey broth
1 teaspoon seasoned salt
1 teaspoon salt
1/4 teaspoon pepper
1 small onion
1 carrot
2 stalks celery
1 bay leaf
6 ounces noodles
Cut your turkey (from leftover roasted turkey) into bite-size chunks. Chop the onion, carrot and celery. Place everything except noodles in your crockpot and cook on low for 4 hours. Remove the bay leaf and add the noodles. Cook another hour on low or 1/2 hour on high until the noodles are soft. Serve the soup hot.
2 tablespoons margarine or butter
1 medium onion, chopped (1/2 cup)
1 butternut squash (2 pounds), peeled, seeded and cubed
2 cups water
1/2 teaspoon dried marjoram leaves
1/4 teaspoon ground black pepper
1/8 teaspoon ground red pepper (cayenne)
4 chicken bouillon cubes
1 package (8 ounces) cream cheese, cubed
Melt margarine in 10-inch skillet over medium heat. Cook onion in margarine, stirring occasionally, until crisp-tender.
Mix onion and remaining ingredients, except cream cheese, in 3 1/2 to 4 quart slow cooker, Cover and cook on low heat setting 6 to 8 hours or until squash is tender.
Place one-third to one-half of the mixture at a time in blender or food processor. Cover and blend on high speed until smooth. Return mixture to slow cooker; stir in cream cheese. Cover and cook on low heat setting about 30 minutes or until cheese is melted, stirring until smooth.
Disclosure: Some of the links below are affilate links, meaning, at no additional cost to you, I will earn a commission if you click through and make a purchase.