Easy Crockpot Turkey Noodle Soup
Disclosure: Some of the links below are affilate links, meaning, at no additional cost to you, I will earn a commission if you click through and make a purchase.
Here's a great dish to use leftover turkey in. If you don't have any, you can easily substitute cooked chicken. I use some of the turkey stock I make from the carcass of the Thanksgiving turkey.
2 cups of cooked turkey
4 cups water
4 cups turkey broth
1 teaspoon seasoned salt
1 teaspoon salt
1/4 teaspoon pepper
1 small onion
1 carrot
2 stalks celery
1 bay leaf
6 ounces noodles
Cut your turkey (from leftover roasted turkey) into bitesize chunks.Chop the onion, carrot and celery. Place everything except noodles in your crockpot and cook on low for 4 hours. Remove the bay leaf and add the noodles. Cook another hour on low or 1/2 hour on high until the noodles are soft. Serve the soup hot.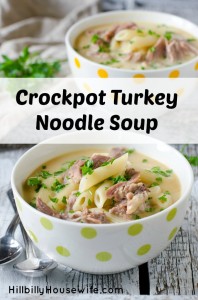 Ready to learn more about crockpot cooking? Get my Crockpot Cooking Made Simple ebook today and find out how you can work this into your meal plan, how to choose a good crockpot and most importantly how to convert your favorite recipes to work in a slow cooker.
http://www.hillbillyhousewife.com/ebooks/crockpotcooking.htm