6 beef bullion cubes
large pkg. 2 lbs. frozen mixed vegetables (I save left over veggies and use those)
2 pounds beef roast, cut into pieces or can use left over beef
salt and pepper to taste
1 (12 oz can tomato paste
6 cups water
Pour ingredients into 6 qt. slow cooker and stir well. Cover and cook on low 8-10 hours. Serve w/ cheese toast or grilled cheese sandwiches.
Submitted by HBHW reader Susan S.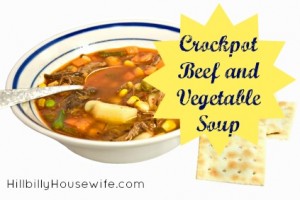 Another yummy crock pot recipe is this crockpot corn chowder. It just melts in your mouth.
Ready to learn more about crockpot cooking? Get my Crockpot Cooking Made Simple ebook today and find out how you can work this into your meal plan, how to choose a good crockpot and most importantly how to convert your favorite recipes to work in a slow cooker.