Simple Weeknight Desserts – Frugal Treats The Whole Family Will Love
We don't do a lot of desserts, but it's nice to have some quick and easy ideas for those nights when the kids deserve a little something special, or when dinner is a little light and you need something else to round out the meal. It usually has to be quick and easy to throw together for it to happen during the week. One thing I do is bake a batch of muffins, cookies, brownies or even a simple cake on the weekend and use that for dessert during the week (or at least the first part of the week until they are gone).
Cookies and brownies are always a favorite here. I make a batch or two on the weekend and hide most of them in a tin on top of the fridge to be used later in the week. If they are sitting out on the counter or in the cookie jar, they'd be gone by Monday.
I'm always looking for new ideas, which is why I posted the following on FB a few days ago:

Below are some of my own family favorites along with the ideas from my wonderful Facebook friends. You can look at the full post here. I'll link to recipes as needed. Got a great simple dessert idea? Leave a comment below and share it with us.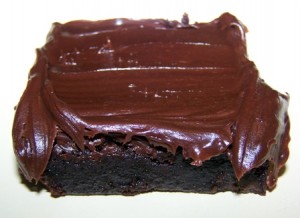 Root Beer Floats (or any other float for that matter)
Ice Box Cakes
Pudding Parfait (made with leftover fruit and cookie crumbs)
Smoothies
Pudding Pie
Broiled Bananas with Ice Cream
Banana Foster
For more delicious dump cake recipes, get a copy of my latest Kindle book. Inside you'll find plenty of recipes your family will love including:
Apple Dump Cake
Rich Pumpkin Dump Cake
Peach Dump Cake
Basic Dump Cake
Easy Dump Cake
Chocolate Cherry Dump Cake
Cherry Chocolate Coconut Dump Cake
Cherry Coconut Dump Cake
Chocolate Duncan Hines Dump Cake
German Chocolate Dump Cake
Chocolate Caramel Dump Cake
Apple Caramel Dump Cake
Apple Pecan Dump Cake
Spiced Apple Dump Cake
Blueberry Dump Cake
What a perfect way to make a simple dessert every one will love.  Get "Dump Cake Recipes – Desserts So Easy Even Kids Can Make Them" today.
Disclosure: Some of the links below are affilate links, meaning, at no additional cost to you, I will earn a commission if you click through and make a purchase.