Be Blessed Not Stressed This Holiday Season and Crockpot Wassail Recipe – HBHW Newsletter
December 15th, 2010
Editorial

Hello again and welcome to another edition of the Hillbilly Housewife Newsletter.
The poll to vote on your favorite Holiday Recipe contest submission is up and it's your time to vote. Please take a moment right now and go to
http://www.hillbillyhousewife.com/favorite-holiday-recipes-poll.htm
Also, if you submitted a holiday recipe, be sure you send your email to us at susanne@hillbillyhousewife.com so we can notify you if you've won a prize, and to send your gifts to you. Be sure also to scroll down and check out the prizes and gifts we have in store for you.
Our featured article this week is about trying to avoid the stress that seems to surround the holidays, especially in the last few weeks before Christmas.  I hope you'll scroll down and click on the link to read our featured article.
This week's quote and story are both about leaving your troubles behind. As much joy and wonder this holiday season can bring us, this time of year can also be difficult for many people, for a variety of reasons. I hope you'll take a moment or two out of your busy day to read and reflect on today's quote and story.
Those are my thoughts this week. As always, I welcome your comments and suggestions. Feel free to email me at susanne@hillbillyhousewife.com
Warm Regards,
Susanne – The Hillbilly Housewife
Inspirational Quote
Drag your thoughts away from your troubles, by the ears, by the heels, or any other way you can manage it.
~Mark Twain~
Sponsor
I Highly Recommend Creating Cherished Christmas Memories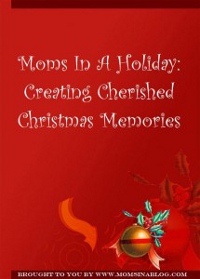 That magical time of the year is almost here – Christmas. However, many families are wondering where the magic has gone.
The joy of the season can sometimes get stiffled by the stress and frustration you feel trying to make everything just right for your family.
When every commercial screams at you "Have you done your holiday shopping yet!?" it feels like that's all that Christmas has come down to… buying more, buying bigger, and buying more expensive gifts.
Are the holidays only about spending money?  Is it your duty to run up impossibly high charges on your credit cards? Are you supposed to spend your precious time shopping for yet another gift?
In short, have you lost that sense of family togetherness that used to make the holidays so special?
You CAN bring back the magic of Christmas for your family.
What does it take? It takes good old fashioned creativity!
That's just what Tracy Roberts of MomsInABlog.com has set out to do. Tracy has made a commitment to stop shopping and start celebrating.  And now she has put together her favorite memory-making ideas into one book – Creating Cherished Christmas Memories.
This ebook is filled with great tips and ideas to get your holiday back on track and out of the rut of frustration and debt.  Take a look at just some of the things you'll find to help you restore the magic to your Christmas:
Grow closer as a family while instilling strong values about things like giving, empathy, and thoughtfulness.
Yummy recipes for holiday treats that the family can make together.
Rein in the season while having fun the whole time.
Handle sticky situations you'd rather ignore, but can't.
Make the holidays last much longer than just one day.
Give gifts that don't cost an arm and leg, and are much more appreciated.
Make visits with the neighbors, relatives, and extended family enjoyable again.
Reduce your stress with these tips.
Explore traditions old and new, and make memories that last.
Doesn't that sound more like a holiday season you long for?
Tracy also includes two bonuses that I know you'll enjoy.  Buy Creating Cherished Christmas Memories today and you'll receive The Big Book of Classic Christmas Tales as well as Tracy's Wacky Party Ideas absolutely FREE. Both resources are perfect for this time of year… and for years to come!
It's never too late to get off the commercialized merry-go-round and get back to creating memories for your family. Buy Creating Cherished Christmas Memories today… it may be the best Christmas gift you'll ever get your family.
http://www.hillbillyhousewife.com/christmas-memories
Holiday Recipe Contest
We are almost ready to start voting for our favorite recipes.  And, the fun news is you'll be doing the voting!   Watch for an email from me soon about how you can participate in choosing the best of the best holiday recipes submitted by you, our readers. Along with the prizes awarded to some lucky people, everyone who submitted a recipe will receive their very own copy of the ebook we prepared with YOUR recipes in it. We still need email addresses from some of you, so be sure to send your email address to me at susanne@hillbillyhousewife.com Thank you!
My friend Patti Winker at RemarkableWrinklies.com has also offered to give each person who submitted a recipe a copy of her new ebook called,  Memory Lane Meals.  Patti has put together a nice collection of over 80 recipes for all sorts of sweet treats. These are recipes that have been collected for many years, so some of them may seen a bit old fashioned, but we love that! Patti and I are giving you this ebook as a Thank You gift for sharing your recipes with us at HBHW.
Then, of course, we have the prizes.  If you are voted a winner for one of these prizes, we'll need to send your prize to you by email.  So, please send me your email address as soon as possible.
When we get your email address, we'll be able to do three things:
1) find you if you win a prize,
2) send your free eCookbook from Patti, and
3) send your own copy of all the holiday recipes submitted.
If you submitted a recipe for the Holiday Recipe Contest, won't you please take a moment right now to email me at susanne@hillbillyhousewife.com and let me know what email address I can use to send your goodies to?  Thank you very much!

As a reminder, here are the valuable prizes we are giving away:
A copy of the Crockpot Cooking Guide
A copy of the Freezer Cooking Guide
A copy of the Meal Planning Guide
Lifetime Membership
Six Month Membership
Three Month Membership
From DineWithoutWhine.com
Lifetime Membership
Six Month Membership
Three Month Membership
From SavingDinner.com
3 month subscription (Value $15)
12 month subscription (Value $47)
Christmas for the Freezer menu (Value $10)
Thank you again for entering our Holiday Recipe Contest.
Featured Article
When it gets down to the last few weeks and days before Christmas, I can sense the stress all around me. Many people are speeding up to wrap up the last few gifts and meals. This creates just the opposite feelings that we want to have over the holidays. If you're starting to feel stressed instead of blessed, won't you click the link below and read our featured article:
Coping With Holiday Stress – Tips To Enjoy This Special Season
Recipe Sharing
This is an aromatic and soothing hot beverage perfect for any holiday celebration. I think you'll enjoy it.
2 quarts apple juice or cider
1 tsp whole cloves
2 cups orange juice
½ cup sugar
1 cup lemon juice
1 cinnamon stick
18 oz pineapple juice
Heat on HIGH in crockpot until hot. Remove cloves and cinnamon stick. Simmer in pot to keep warm. 25-30 servings.
Submitted by HBHW reader Susan S. and here is her orange spiced cider recipe. Don't forget to take a look at these other easy crockpot recipes as well.
Ready to learn more about crockpot cooking? Get my Crockpot Cooking Made Simple ebook today and find out how you can work this into your meal plan, how to choose a good crockpot and most importantly how to convert your favorite recipes to work in a slow cooker.
Frugal Tips
[RSSImport display="3″ feedurl="http://www.hillbillyhousewife.com/category/frugal-tips/feed" displaydescriptions=true end_item="
" start_item=""]
Do you have a tip to share? Fill out the submit a frugal tip form and I'll be glad to add it to the site and share your tip in an upcoming edition of the newsletter.
Recipes
Here are some of the most recent recipes that have been added to the HBHW site. Enjoy!
[RSSImport display="5″ feedurl="http://www.hillbillyhousewife.com/category/recipes/feed" displaydescriptions=true end_item="
" start_item=""]
Do you have a recipe you would like to share? Click here to send it to me and I'll be happy to add it to the website.
I'm Looking For:
This section is all about you. If you are looking for a particular recipe or a tip on how to do something, submit it here and I will post it in an upcoming newsletter. I'll give you my input and other readers of the newsletter will have the opportunity to share their recipes and tips as well. So take a moment to post your questions and of course if you have a tip or idea for any question posted in this section feel free to leave a comment under the appropriate post.
I'm Looking For Requests
[RSSImport display="20″ feedurl="http://www.hillbillyhousewife.com/category/newsletter/recipe-requests/feed" displaydescriptions=true end_item="
" start_item=""]
I'm Looking For Responses
Below you will find some of the recent responses to the "I'm Looking For" Requests. You may also want to go directly to this section and browse through all the recent submissions and replies. To do so, click on "I'm Looking for" here, and start looking through them.
[RSSImport display="20″ feedurl="http://www.hillbillyhousewife.com/comments/feed?cat=recipe-requests&withcomments=1″ displaydescriptions=true end_item="
" start_item=""]
Inspirational Story
The Trouble Tree
~author unknown~
The carpenter I hired to help me restore an old farm house had just finished a rough first day on the job. A flat tire had caused him to miss an hour of work, his electric saw quit, and now his ancient pick-up truck refused to start.
As I drove him home, he sat in stony silence. When we arrived he invited me in to meet his family. As we walked to the front door, he paused briefly at a small tree, touching the tips of the branches with both hands. When opening the door he underwent an amazing transformation. His tanned face was wreathed in smiles; he hugged his two small children and gave his wife a kiss.
Afterward he walked me to the car. We passed by the tree and my curiosity got the better of me.
I asked him about what I had seen him do earlier.
"Oh, that's my trouble tree," he replied. "I know I can't help having troubles on the job, but one thing's for sure, they don't belong in the house with my wife and children. So, I just hang them on the tree when I come home in the evening and then I just pick them up again in the morning."
"Funny thing, though," he smiled, "when I come out in the morning to pick 'em up, there aren't nearly as many as I remembered hanging there the night before."
Final Thought
That's it for this edition of the Hillbilly Housewife Newsletter. I hope you've had as much fun reading it as I had creating it for you. I also hope that you have found the information helpful and useful. And by all means feel free to forward the newsletter to family and friends or even better, encourage them to subscribe to it.
Do you have a question, a tip, a recipe or a story you'd like to share with us? Email it to me and I'll include it in a future issue. Can't wait to see what you have to say.
Warm Wishes,
Susanne – The Hillbilly Housewife
Disclosure: Some of the links below are affilate links, meaning, at no additional cost to you, I will earn a commission if you click through and make a purchase.