"Imagine! Dinner Is Cooking Itself While You Spend Some Quality Time With The Kids"
Does this sound familiar? You spend all day running errands, driving the kids around, cleaning house. Or you are working 8 hours a day before heading home to clean, grocery shop and deal with homework.

In other words, we're all leading very busy lives and when it's time for dinner it's sometimes hard to find the energy and sometimes simply the time to cook an elaborate home-cooked meal.

But that doesn't mean you can't serve a delicious, slow-cooked meal...

Crockpot To The Rescue!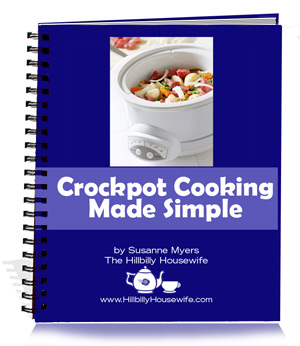 With Crockpot Cooking, you simple get out your slow cooker in the morning, layer in your ingredients and turn it on. The crockpot does the rest of the work, slowly cooking your meal to perfection.
Yes, that's all it took! And it can work for you too . . .
Here Are Just A Few Of The Things
You'll Discover Inside And Put To Work Right Away
What should you be looking for in a new crockpot.
What type of crockpot do you have? There are certain safety issues you need to be aware of with an older slow cooker.
How to quickly and easily convert your favorite meals into crockpot recipes.
Crockpot safety tips that will ensure all food is cooked to the right temperature and doesn't get you sick.
Crockpot cooking techniques that will turn you into a pro in no time and make sure that each and every crock pot meal turns out cooked to perfection.
Size matters, no matter what they tell you.
Plenty of Crockpot Recipes - so you can start cooking with your slow cooker right away.
But That's Not All...
I've also put together a recipe collection with close to 500 recipes to go along with the main crockpot guide

Here are just a few of the recipes you will find in this collection:
Take It from the Pantry Soup
Stew Meat Vegetable Soup
Cheddar, Ham and Broccoli Soup
Sautéed Curry Chicken Soup
Kid Favorite Alphabet Soup
Shepherds Crock Pot Casserole
Shoestring Potato and Tuna Casserole
Creamy Mushroom Beef Dinner
Mozzarella Pizza Sloppy Joes
Oh So Easy BBQ Pork Chops
Chili Cheese Dip Scoopers
Crock Pot Spiced Snack Mix
Spicy Peanut Glazed Chicken Wings
Cinnamon Spiced Vanilla Chai
Hickory Smoked Bean Bake
So Easy Company Potatoes
Pecan Sprinkled Sweet Potatoes
Cheddar Vegetable Dish
Crock Pot Spooncake
Steamy Pecan Chocolate Pudding
Brunch Style Stuffed Scrambled Eggs
Overnight Cinnamon Apple Oatmeal
With close to 500 recipes you are sure to find some new family favorites.
It's time to say "Let's Get Cooking" and and put your slowcooker to work. This sensational resource "Crockpot Cooking Made Simple" is available to you as a downloadable pdf ebook directly accessible from the Internet.
Don't Wait until you're ready to order takeout or buy another stack of expensive frozen meals at the grocery store. Take control by taking action right now, today!

Here's How To Order Right Now!
þ Yes! Susanne, Help Me Get Dinner On The Table With My Crockpot
Click the Link Below to Order The Crockpot Cooking Made Simple Ebook and the Recipe Collection for $29.95
IMMEDIATE DOWNLOAD!

Important Note:
This is A Secure Transaction. Nobody Online Can See Your Data So You Can Place your Order With Confidence.
Don't wait any longer! You can be downloading and learning from this incredible information within just a few minutes . . . and using it to start making your own meal plans - or use one of mine!
Warmly,

Susanne Myers
P.P.S. Remember, you'll get instant access to this ebook so that you can start learning how to plan meals right away. There are no extra costs or wait time for shipping. What are you waiting for? Click here to order your copy now!