Plain Muffins
This is a very basic or plain muffins recipe. Make them plain, or use one of the variations below. Even better, come up with your own favorite. This basic recipe can easily be used to make savory or sweet muffins. I can't wait to see what you come up with.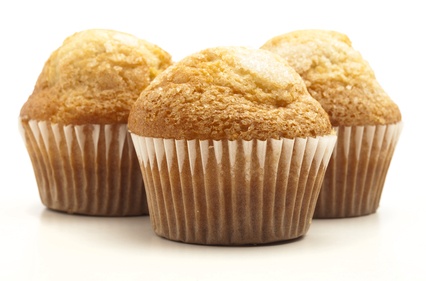 1/4 cup oil
1 medium egg
1 cup milk
1/4 to 1/2 cup sugar
1/2 teaspoon salt
1 tablespoon baking powder (3 teaspoons)
2 cups flour
In a large bowl combine the oil, egg, milk, sugar and salt. Mix it very well with a fork or wire whisk. Measure in the baking powder and flour. Mix again until all of the dough particles are moistened. Do not over mix your plain muffins The whole thing should take about 20 to 30 strokes. Spoon the batter into a dozen well oiled muffin cups. Bake at 400° for about 20 minutes. Remove from the oven and cool slightly before removing from the pan.
This is the basic recipe. I used to make it every night when I was young and poor. It is so easy and so cheap and so down right good to eat, that it almost seems a shame to expand on it. Notice I say almost, because one of the glorious things about plain m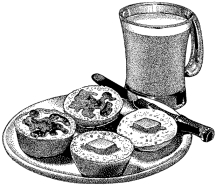 uffins and muffins in general is that this recipe, is only the starting point. I will list several easy variations now, and you can go from here in any direction you like.
Cereal Muffins: After preparing the above recipe using 1/4-cup of sugar, add 1-cup of cooked cereal. You may add oatmeal, or grits, or rice, or farina, or whatever you have left over. This makes about 18 muffins. Rice is my favorite.
Whole Wheat Muffins: Use half or all whole wheat flour instead of the white flour called for. Use 1/3-cup brown sugar for the sweetener.
Rye Muffins: Replace 1/2-cup of white flour with Rye flour. Add 1-teaspoon caraway seeds to the batter. Use 1/4-cup of brown sugar for the sweetener.
Cornmeal Muffins: Replace 1-cup of white flour with cornmeal. Use 1/3-cup of white sugar for the sweetener.
Cinnamon Raisin Muffins: Add 1/2-cup of raisins and 1-1/2 teaspoons cinnamon to the batter. Use 1/2-cup of white sugar for the sweetener.
Cheese Muffins: These are a favorite at my house. Add 1/2 to 1-cup of shredded cheese to the batter after mixing in the flour. If you are using grated Parmesan, only add 1/3-cup of it. I usually add a full cup of cheddar and then use it a an accompaniment to meatless meals. Use 1/4-cup sugar as the sweetener.
Breakfast Meat Muffins: First off only use 2-tablespoons of sugar for the sweetener. Next you will need 1/2 to 3/4-cup of finely chopped cooked ham, or 6 slices of cooked, crumbled bacon, or 1/2-cup finely chopped cooked sausage. Stir the meat into the muffin batter after adding the flour. If you like you may also add 1/2-cup of shredded cheese. These are good in lunch boxes instead of a sandwich (pack two) or prepared the night before starting off on an early road trip. As the children wake up in the back of the car, hand out these and they will sing your praises in song.
Corn Muffins: This is an old southern favorite. Add a cup of well drained cooked corn to the muffin batter after adding the flour. Use 1/4 cup white sugar for the sweetener. These are good with fried chicken.
Here's another frugal bread recipe for you: Quick and easy garlic bread sticks.
Ready to try more HBHW recipes? Why not try some of these homemade mixes and convenience foods:
Homemade Mixes – Make It Yourself and Save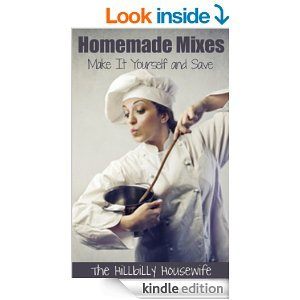 Making your own mix from scratch rather than buying it in the store not only saves you money but also saves you from all the additives and preservatives that are put in the foods we buy. The recipes include:
Apple Pie Spice Mix
Basic Muffin Mix
Brownie Mix
Caribbean Jerk Seasoning
Chocolate Chip Cookie Mix
Corn Bread Mix
Cream of Soup Mix
Fajita Seasoning
Fish Fry Coating Mix
Fruited Oatmeal Mix
Homemade Taco Seasoning Mix
Homemade Vanilla Chai Tea Mix
Disclosure: Some of the links below are affilate links, meaning, at no additional cost to you, I will earn a commission if you click through and make a purchase.