Inexpensive Easy To Make Christmas Gift Ideas – Gifts In A Jar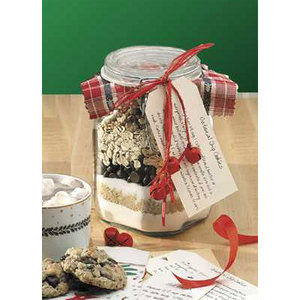 One of my favorite gifts to give is a jar of a baking, soup or drink mix. They are always well received. They make the perfect inexpensive and easy to make Christmas gifts.
Love to make gingerbread cookies?  Why not put the ingredients in a jar; write the recipe on red construction paper; cut the construction paper to the circumference of the jar; and wrap the construction paper around the front of the jar with white ribbon. Place a green bow on top of the lid of the jar.
Brownies are a wonderful gift anytime of year, but especially during Christmas.  Find your favorite brownie recipe and put the ingredients into a jar.  Type up the recipe, roll it up, and place the rolled recipe into jar along with the ingredients.  Wrap the jar in color cellophane, and tie the cellophane with red ribbon.
Have you seen those spice green and red candies?  There are sold in most supermarkets. This would make a perfect Christmas gift in a jar.
Jelly beans in a jar are another traditional Christmas gift.  Easy, fun, delicious, and low in calories as well.
M&M's in a jar is another wonderful Christmas treat.  Buy a bag of red and green M&M's, either plain or with nuts, and fill up a jar as a Christmas gift which anyone would love to receive.
A traditional Christmas gift in a jar is the colorful hard candies, such as peppermint sticks; Christmas hard candies with filling; red and white mint swirl candies.
For chocolate lovers, why not put chocolate pretzels in a jar.  Chocolate pretzels come in packages, and are available in your local supermarket.  What a sweet treat this gift would make.
How about theme gifts in a jar?  Examples are: Chocolate golf balls; chocolate baseballs; chocolate footballs; chocolate soccer balls.  Any of these fun theme gifts would be a hit with anyone who enjoys these sports.
Some of my favorite jar gifts are mixes for fancy beverages including cafe late mix, bavarian mint coffee mix and of course rich hot cocoa mix.
No matter what you choose; traditional; off-beat; baked or bought, making easy Christmas gifts in a jar is fun and allows you to be as creative as you want to be. Gifts in a jar can be an inexpensive treat to give to your colleagues at work; your friends, and even your family members.
The best part is you can go to your supermarket or shopping club and stock up on your favorite candies and chocolates, to make as many jars of treats as you need.
Disclosure: Some of the links below are affilate links, meaning, at no additional cost to you, I will earn a commission if you click through and make a purchase.