Iced London Fog Latte Recipe
My daughter's favorite tea is Earl Grey. A few years ago, I came across a recipe for London Fog. It's a hot Earl Grey Latte that's often sweetened with a little honey. With the temperatures rising here in the south, we thought it would be fun to come up with an iced version of her favorite winter beverage. Here's what we came up with – An Iced London Fog Latte.
I hope you give it a try. It's my favorite way to drink Earl Grey tea and a delicious cold treat on a hot summer day.
Ready to make a glass? Here's how:
Iced London Fog Latte
Ingredients
1 bag of Earl Grey tea
4 oz of boiling water
1-2 tsp of sugar (or non-calorie sweetener of your choice)
1/2 tsp vanilla extract
1/4 cup whole milk
ice cubes
Instructions
Brew a strong cup of tea. Allow it to steep for ten minutes before removing the tea bag.
Add the sugar and stir until dissolved.
Let the tea come to room temperature.
Fill a tall glass with ice. Add the tea, vanilla extract, and milk.
Stir and serve.
© 2023 Copyright www.HillbillyHousewife.com
If a tea latte isn't your thing, try this iced mocha latte. Or how about some iced pumpkin spice latte to get you through the hot summer days?
No matter what you choose, you can't go wrong with any of these delicious recipes of cold caffeinated drinks that you'd spent a small fortune on at a chain coffee shop.
Ready for more easy homemade recipes? Take a look at this cookbook by yours truly.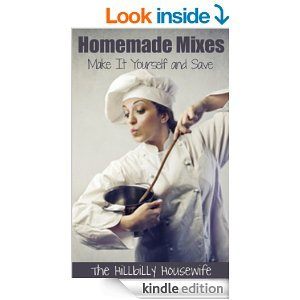 Making your own mix from scratch rather than buying it in the store not only saves you money but also saves you from all the additives and preservatives that are put in the foods we buy. The recipes include:
Apple Pie Spice Mix
Basic Muffin Mix
Brownie Mix
Caribbean Jerk Seasoning
Chocolate Chip Cookie Mix
Corn Bread Mix
Cream of Soup Mix
Fajita Seasoning
Fish Fry Coating Mix
Fruited Oatmeal Mix
Homemade Taco Seasoning Mix
Homemade Vanilla Chai Tea Mix
Disclosure: Some of the links below are affilate links, meaning, at no additional cost to you, I will earn a commission if you click through and make a purchase.