Iced Pumpkin Spice Latte Recipe
As soon as September rolls around, I'm ready for fall and looking forward to one of my favorite fall treats – Pumpkin Spice Lattes. The problem is, I live in South Carolina and we still have temperatures in the 90s, making those PSL's much less enjoyable. The solution? Iced pumpkin spiced latte of course!
Last year, I came across the idea of an iced pumpkin spice latte for the first time and I was hooked. Of course I had to play around with some ideas and come up with a recipe of my own. (Let's face it, I can't afford to head down to the local coffee shop once a day to pick one up there).
This is such a great lunch time treat or afternoon pick-me-up. My favorite time to fix it is right before I head out to pick my daughter up from school. I get to relax for a few minutes in the car pickup line, do a little knitting and sip on my drink.
Ready to give it a try? Here's the recipe.  You can make your own pumpkin spice mix to use in this recipe or your favorite pumpkin pie one.
Iced Pumpkin Spice Latte
Ingredients
1 cup of milk
1 tbsp pumpkin puree
1 tbsp honey, sugar or low calorie sweetener to taste
1 tbsp vanilla extract
1/4 tsp pumpkin spice mix
1/2 cup of strong coffee
Ice
Whipped Cream (optional)
Dash of pumpkin spice mix (optional)
Instructions
Brew your coffee and allow it to cool. You can use one or two shots of espresson instead of coffee if you like.
Heat the milk, pumpkin puree and honey or sugar in a small saucepan until everything is well blended.
Add the vanilla and pumpkin spice and stir until well combined. Allow this mixture to cool a bit as well.
Fill a large glass with ice. Pour the coffee in and top with the milk mixture.
Add a bit of whipped cream and a sprinkle of pumpkin pie spice mix if desired.
© 2023 Copyright www.HillbillyHousewife.com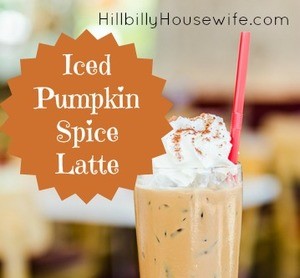 If it's already plenty cold where you're at, I have a hot pumpkin spice latte recipe as well.
Ready for more?
Homemade Mixes – Make It Yourself and Save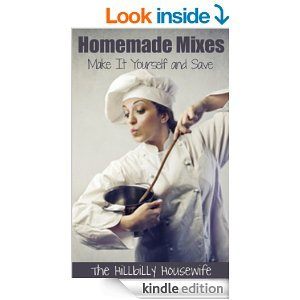 Making your own mix from scratch rather than buying it in the store not only saves you money but also saves you from all the additives and preservatives that are put in the foods we buy. The recipes include:
Apple Pie Spice Mix
Basic Muffin Mix
Brownie Mix
Caribbean Jerk Seasoning
Chocolate Chip Cookie Mix
Corn Bread Mix
Cream of Soup Mix
Fajita Seasoning
Fish Fry Coating Mix
Fruited Oatmeal Mix
Homemade Taco Seasoning Mix
Homemade Vanilla Chai Tea Mix
Disclosure: Some of the links below are affilate links, meaning, at no additional cost to you, I will earn a commission if you click through and make a purchase.