Homemade Chicken Pot Pie
This is one of my favorite comfort foods. By using a previously made (and frozen) pie crust, or buying a frozen one at the store, this dish is easy enough to make during the week. Of course you can also use leftover chicken from a previous meal (like baked chicken for example), making it even quicker and easier to put together.
The end result is pure comfort food. Feel free to use any veggies your family likes or – you guessed it – leftovers hanging out in the fridge. All in all it's a filling meal that's always a crowd-pleaser.
Homemade Chicken Pot Pie
Ingredients
1 whole fryer chicken
10 ozs frozen mixed veggies
1 cup celery
1 cup chicken broth
½ stick butter (melted)
2 cans cream of chicken soup
OR cream of celery soup
1 ½ cups buttermilk
1 ½ cups Bisquick *
1 ready made frozen pie crust
Instructions
Prepare the pie crust according to the manufacturers instructions.
Boil chicken and then remove the skin and the bones. Cool a little and cut into cubes.
Place the chicken, veggies, celery, broth, butter and soup into a large bowl and mix well.
After they have been mixed,pour into the prepared pie crust.
Mix the buttermilk and Bisquick together and then pour mix over the top of the pie.
Preheat oven to 350 degrees and bake for 1 hour.
* I use my own biscuit mix.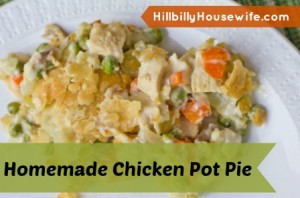 The Hillbilly Housewife Recommends:
Make even more convenience foods right at home! You'll save money, control ingredients, and avoid expensive "fast foods" when you start making your own favorite convenience foods. Click on here to find out about our informative resource Homemade Convenience Foods – and dig into over 200 recipes for handy convenience foods you can make at home.

Eliminate those prepackaged foods from your pantry, eat healthier and cheaper while still cooking fast. Order your copy today!
Disclosure: Some of the links below are affilate links, meaning, at no additional cost to you, I will earn a commission if you click through and make a purchase.