White Flour Biscuit Mix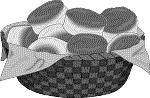 Recipe using all-purpose flour:
9 cups all-purpose flour
1 1/2 tablespoons salt
1/4 cup baking powder
2 cups solid vegetable shortening
Recipe using self-rising flour:
10 cups self-rising flour (this already has salt and baking powder added to it)
2 cups solid vegetable shortening
You can use either recipe above and come up with the same results. The procedure for making Biscuit Mix is the same for both recipes. Choose the recipe that fits the status of your ingredients the best.
Get out a very large bowl, or a clean, dry dish pan. Mix all of the dry ingredients together first. Then measure the shortening by using a one cup measure to scoop up a big glob of shortening. Pack it down tightly, and level off the top with your finger or a dull knife. Your fingers will get greasy; it's alright, you can wash them later. Scoop the shortening out of the measuring cup into the bowl or dishpan. Measure another cup of shortening the same way. You should put a total of two cups of shortening into the flour. Now use your hands to mix the shortening into the flour. It should only take a few minutes before the mixture resembles lumpy cornmeal in texture. Now you are done. Easy, wasn't it?
Store the Biscuit Mix in a tightly sealed canister or clean coffee can. These recipes make about 11 or 12 cups of Biscuit Mix. Use it anywhere else you see Bisquick or Biscuit Mix called for.
Do you prefer your breads to include whole wheat flour? Then try my light wheat biscuit mix instead. It's just as delicious, but with the added health benefits of using whole grain.
Disclosure: Some of the links below are affilate links, meaning, at no additional cost to you, I will earn a commission if you click through and make a purchase.