Hoe Cakes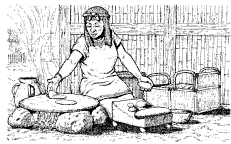 2 cups corn meal
1 teaspoon salt
2 cups boiling water
oil for frying
Put the tea kettle on to boil. In a large bowl combine the corn meal and salt. When the water boils, measure it in a metal or tempered-glass measuring cup. Pour the boiling water over the cornmeal and stir it up. The cornmeal will swell up, absorbing the water, and making a very thick mash.
Heat some oil in a large skillet over medium high heat. You can use as little as two tablespoon of oil per panful, but it is a little easier to use 4 or 5 tablespoons of oil for each panful. Use your waistline and frying skill as the final judge. Now scoop up a little of the cornmeal mush (about 1/4-cup) and shape it into a patty. It will still be warm from the boiling water, so be careful not to burn yourself. You can let it cool down some more first if you like. Plop the patty into the hot fat, and get it to frying. Make some more, until you have a whole pan full. I usually cook about 4 or 5 at a time. When the underside is crispy brown, turn them and cook the other side. When both sides are crispy and brown, transfer them to a plate to keep warm, and start another batch. This recipe makes about 12 hoe cakes.
Originally, Native Americans cooked these on hot rocks in an open fire. They were commonly referred to as Ash Cakes. Later on, settlers from Europe adopted the recipe, cooking the cakes on the blades of their hoes in the fireplace. This is where they get the name, "Hoe Cakes". Of all the recipes in my collection, this one is the oldest, the cheapest, and just about the tastiest of all. Serve Hoe Cakes with as a bread, or by themselves for breakfast with maple syrup or molasses. They also make a nice accompaniment to main meals, especially when fried in margarine. In the summertime, when you want a hot bread, but don't want to heat up the oven, this is the best choice. They cook right on top of the stove, without heating up the entire house. Good for camping and back packing too.
Another favorite southern bread recipe are biscuits. My biscuit mix made from white flour makes it easy to bake up a batch of them for breakfast or dinner.
Disclosure: Some of the links below are affilate links, meaning, at no additional cost to you, I will earn a commission if you click through and make a purchase.