Easy Chili Casserole Recipe
This Chili con Carne casserole is easy to put together and the perfect meal for any chili loving family. Full of flavor with all the beans, chilies and seasonings and plenty of beef and rice to fill you up, this delicious casserole is a crowd pleaser. It's quick and easy to throw together, perfect for busy week nights and fun-filled Saturdays. Give it a try. It'll quickly become a favorite in your house… it already has in mine.
Chili Con Carne Casserole
Author:
Prep time:
Cook time:
Total time:
Ingredients
1 small onion, chopped
1 1/4 cup uncooked rice
1 1/4 cup beef broth
1 can (26 oz) kidney or pinto beans, drained
1 1/2 lbs ground beef
1 can (4 oz) green chilies, drained and diced
1 tsp salt
1 tsp ground cumin
1 tsp chili powder
2 cup zucchini, shredded
1 can (14 oz) diced tomatoes
Instructions
Preheat oven to 375 degrees and grease a large casserole dish.
Arrange the onions evenly into the casserole, then add the rice and water, and smooth out evenly into the casserole.
In a separate big bowl, place the black beans, beef, chilies, salt, cumin, and chili powder, and mix with a fork until beef is broken up and mixture is blended.
Spoon evenly into casserole dish, then cover with zucchini, and finally the diced tomatoes.
Cover casserole and bake at 375 degrees for 45 to 50 minutes or until beef is cooked thoroughly and chili is bubbly hot.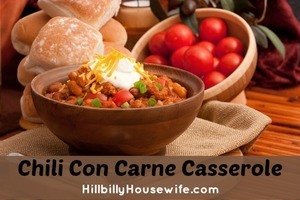 Ready for more delicious casseroles and other easy "make and take" style meals? Check out my latest Kindle Cookbook: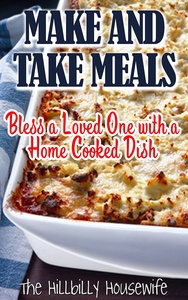 Make And Take Meals – Bless A Loved One With A Homecooked Dish 
There's nothing more thoughtful than blessing someone with a home cooked meal – an elderly neighbor, your friend who just had her first child, your coworker who is recovering from surgery. There are so many reasons to bring someone a nice meal to take the burden off of them or for no reason at all. Just to show your appreciation for that person.
I've gathered some of my favorite make and take meals so you can brighten up a loved one's day. But first we'll take a closer look at why sharing kindness with food is more important now than ever, who may appreciate a home-cooked meal in your own community and circle of influence and what the etiquette is when it comes to taking a meal to someone. I also share my best practical tips and tricks to make this a snap and to make sure you are always prepared to make and take a meal.
Available on Amazon Kindle at https://amzn.to/2MVVy3z
Disclosure: Some of the links below are affilate links, meaning, at no additional cost to you, I will earn a commission if you click through and make a purchase.