Easy French Toast Casserole
My daughter loves French toast, but I don't like the fact that when I make it from scratch, everyone eats while I'm frying up the rest of the toast. This casserole version is the perfect solution. It's also a lot less messy than making regular French toast. The recipe is from the Breakfast Casseroles Kindle Cookbook
French Toast Casserole
Ingredients
4 eggs
1 1/2 cups milk
1/4 cup white sugar
5 cups cubed bread
1 teaspoon cinnamon
1 tablespoon softened margarine
1 teaspoon vanilla extract
1/4 teaspoon salt
Instructions
Lightly butter a 8×8 inch baking pan while preheating oven to 350 degrees.
Place the cubed bread in the bottom of the pan. In a large mixing bowl, mix together the eggs, milk, 2 tablespoons sugar, salt and vanilla. Pour it over the bread. Add a few dollops of margarine and let stand for 10 minutes.
Take the remaining sugar (2 tablespoons) and mix it with the cinnamon and sprinkle over the top of the mixture in the baking dish. Bake for 40 to 45 minutes or until golden brown.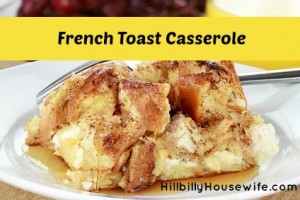 For more delicious breakfast casserole recipes, get a copy of my bestselling Kindle cookbook. Inside you'll find 35 recipes your family will love including:
Ham, Hash Brown and Cheese Breakfast Casserole Sausage Breakfast Casserole French Toast Breakfast Casserole Sugar Free French Toast Breakfast Casserole French Toast Breakfast Casserole – Syrup on the Bottom Version Apples and Raisins French Toast Breakfast Casserole Peach French Toast Breakfast Casserole Sunday Morning Breakfast Casserole Cheese Grits Breakfast Casserole Spinach and Cheese Breakfast Casserole All-in-One Breakfast Casserole What a perfect way to start your morning. Get Breakfast Casseroles – 35 Recipes for Everyday & Special Occasions today.
Disclosure: Some of the links below are affilate links, meaning, at no additional cost to you, I will earn a commission if you click through and make a purchase.