Crockpot Appetizers – Give Your Old Favorites A New Twist
In the months and weeks before the holiday season, we all usually start dragging out our recipes, including favorite appetizer recipes. Everyone loves those tasty treats and you know your dinner guests like to grab a few bites as they mingle and catch up with each other.
Even when planning a big sit-down meal, your dinner guests will always make room for a few tasty bites before dinner. The trick to serving good appetizers is serving an attractive and delicious variety of dishes. This may be easier said than done when you have become so accustomed to making certain appetizers year-after-year.
It's time to put your crockpot to work for you as you improve on your classic appetizers like cheese dips, cocktail wieners, and meatballs. Your holiday gathering is special. Shouldn't your appetizers be special, too? Let's take a look at how to make your old favorites a bit more special:
Cheese Dip – You can certainly make a simple little cheese dip that would be delicious, but, don't you want to make a dip that your guests will remember, and talk about, and ask you for the recipe? How about an Artichoke and Cheese Dip? By adding some chopped artichoke hearts and a few spices to your favorite cheese dip you've perked this appetizer up enough to make it memorable.
Cocktail Sausages – Think way beyond those little wienies and serve up an easy, but fancy, batch of sweet and Tangy Apple Sausage Appetizers instead. Use any combination of ingredients such as brown sugar, honey, balsamic vinegar, and Dijon mustard, then instead of adding Vienna Sausages, cut up some good apple smoked sausage, some tart apples like Granny Smith, and some sweet onion and add that to the crockpot. If your guests were expecting the standard cocktail wienie appetizer, they'll be pleasantly surprised when they bite into this sweet and spicy treat.
Meatball Bites – Those little meatballs swimming around in barbecue sauce are tasty, but are they special enough for your holiday event? Go ahead and make your mini meatballs out of your favorite recipe, but when it comes to the sauce, it's time to do something special. Beer is the ingredient that kicks this appetizer recipe up a couple pegs. This Tangy Meatball Appetizer will have your guests wondering what makes the sauce so yummy. You won't find these meatballs on just any buffet!
Nutty Snacks – I always think pretty bowls of assorted nuts placed on tables around the room are a nice touch. But, instead of just dumping some mixed nuts in a bowl, why not cook up a batch to surprise your guests? And, because pecans are often associated with sweet snacks and desserts, you can surprise your guests even further by spicing the pecans up with your favorite hot and spicy flavors. When you serve Cajun Style Pecans you will have an appetizer that is the talk of the town!
We all have our favorite appetizers that have become a tradition over the years. We can still enjoy these same appetizers, but don't they deserve a little updating? And don't our guests deserve a little special treat this year? Surprise them by tweaking your old crockpot appetizers and maybe you'll start some brand new traditions!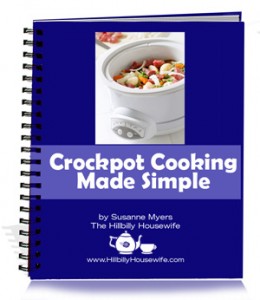 Want to learn more about how to use your crockpot to create tasty treats and meals, while saving money and time?
Get all the information, recipes, and tips you need with my Crockpot Cooking Made Simple ebook.
Click here and buy this guide now to start creating tasty treats today!
Disclosure: Some of the links below are affilate links, meaning, at no additional cost to you, I will earn a commission if you click through and make a purchase.