Cornmeal Muffins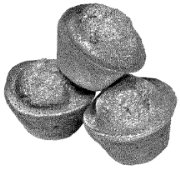 1/2 cup oil, or melted shortening
2 medium eggs
1 cup buttermilk, or yogurt, or sour milk (powdered buttermilk is fine)
1 teaspoon salt
2 tablespoons sugar
1 teaspoon baking soda
3/4 cup cornmeal
1 cup flour
Into your favorite big bowl, measure the oil or melted shortening. Crack in the eggs and add the buttermilk (or other milk product). Beat with a whisk until thoroughly combined. Add the salt, sugar, soda, cornmeal and flour. Stir casually, but not too aggressively. When mixed, but still lumpy stop stirring. Oil up a dozen muffin cups. Divide the batter evenly amongst the muffin cups. Bake at 400F for about 20 minutes. Remove from the oven and cool slightly before eating. These are very very good. Perfect for company meals with a nice pot of homemade chili.
Of course that's not the only muffin recipe in  the bread section. You may also want to try making the plain muffins.
Disclosure: Some of the links below are affilate links, meaning, at no additional cost to you, I will earn a commission if you click through and make a purchase.