Plain Muffins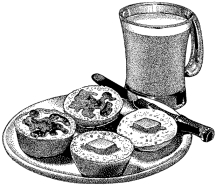 1/4 cup oil
1 medium egg
1 cup milk
1/4 to 1/2 cup sugar
1/2 teaspoon salt
1 tablespoon baking powder (3 teaspoons)
2 cups flour
In a large bowl combine the oil, egg, milk, sugar and salt. Mix it very well with a fork or wire whisk. Measure in the baking powder and flour. Mix again until all of the dough particles are moistened. Do not over mix. The whole thing should take about 20 to 30 strokes. Spoon the batter into a dozen well oiled muffin cups. Bake at 400° for about 20 minutes. Remove from the oven and cool slightly before removing from the pan.
This is the basic recipe. I used to make it every night when I was young and poor. It is so easy and so cheap and so down right good to eat, that it almost seems a shame to expand on it. Notice I say almost, because one of the glorious things about muffins is that this recipe, is only the starting point. I will list several easy variations now, and you can go from here in any direction you like.
Cereal Muffins: After preparing the above recipe using 1/4-cup of sugar, add 1-cup of cooked cereal. You may add oatmeal, or grits, or rice, or farina, or whatever you have left over. This makes about 18 muffins. Rice is my favorite.
Whole Wheat Muffins: Use half or all whole wheat flour instead of the white flour called for. Use 1/3-cup brown sugar for the sweetener.
Rye Muffins: Replace 1/2-cup of white flour with Rye flour. Add 1-teaspoon caraway seeds to the batter. Use 1/4-cup of brown sugar for the sweetener.
Cornmeal Muffins: Replace 1-cup of white flour with cornmeal. Use 1/3-cup of white sugar for the sweetener.
Here's another frugal bread recipe for you: Quick and easy garlic bread sticks.