Biscuit Mix Recipes
The following recipes are to use my homemade biscuit mix. Of course you can also use them with the store bought kind if you're so inclined.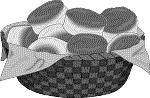 Biscuits:
2 1/2 cups Biscuit Mix
2/3 cup milk or buttermilk
Combine the ingredients in a bowl. Mix to a soft dough. Knead 10 times. Roll out the dough to 1/2 or 3/4 inch thickness. Cut the dough into rounds and bake at 425 degrees for 10 to 15 minutes.
Emergency or Drop Biscuits:
Prepare the above recipe, increasing the milk to 1 full cup. Stir the batter to make a soft, sticky dough. Drop the dough by spoonfuls onto an oiled cookie sheet and bake as directed. These are lumpy and irregularly shaped, they are also easy and taste quite good.
Pancakes:
2 cups Biscuit Mix
1 1/3 cups milk or buttermilk
Fat for frying
Combine the biscuit mix and milk in a large bowl. Stir well, the batter will be lumpy. Drop by 1/4 cupfuls onto a well oiled skillet or griddle. Brown on both sides and serve hot with syrup or applesauce.
Muffins:
2 1/4 cups Biscuit Mix
1/4 cup sugar
2 tablespoons oil
1 egg
1 cup milk
In a bowl combine the biscuit mix and sugar. In a large measuring cup combine the oil, egg and milk. Quickly whisk the liquid ingredients into the dry ingredients. Leave the batter lumpy, don't overmix. Fill a dozen well oiled muffin cups and bake at 400 degrees for 20 minutes.
Dumplings:
2 cups of Biscuit Mix
1/2 to 3/4 cups of milk
Mix the biscuit mix and milk, starting with 1/2 cup. Add more if needed to create soft dough. Use a spoon to drop small amounts of it into your boiling soup or stew. Cook for 15 to 20 minutes before serving.
All of these are great breakfast bread recipes, as is my personal favorite – this banana muffin recipe. I love the fact that it doesn't use egg and it's a great way to use up overripe bananas.
Disclosure: Some of the links below are affilate links, meaning, at no additional cost to you, I will earn a commission if you click through and make a purchase.