Often the most expensive part of a holiday meal (and most dinners for that matter) is the meat. After Christmas (or Easter), we tend to have quite a bit of ham leftover. Eating the same holiday meal warmed up again, works well for the day after, but it's not something I want to eat for 3 or 4 days in a row. Instead, why not use that leftover ham for a variety of dishes over the coming days. Some of these can also be frozen and served later if you're getting tired of ham.
On a cold winter day, there's nothing better than a warm cup of soup, especially if that soup practically cooks itself. Give this Crockpot Ham and Potato soup a try.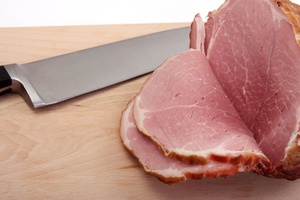 For a simple breakfast, scramble up some eggs and add a little sliced ham and some grated cheese to it. Or make up your favorite breakfast casserole and substitute ham for bacon or sausage.
Make up a batch of homemade macaroni and cheese or potato salad and add some chopped ham for a quick dinner. Add some leftover veggies or a side salad and dinner is ready.
Or try this Ham and Potato Crockpot Casserole. It's quickly becoming a family favorite around here.
For lunch, slice up the ham to make ham and cheese sandwiches, or make up a batch of deviled ham to serve on crackers.
Last but not least, don't forget to set aside a little ham to make a pot of pinto beans. You don't need a lot to add a bunch of flavor. Just toss those little odds and ends in a freezer bag, and freeze them. When you're ready to make your beans, just pour the frozen ham in there at the beginning.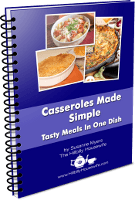 For more delicious casserole recipes and helpful cooking tips, grab a copy of my ebook Casseroles Made Simple – Tasty Meals In One Dish.
You will go from the oven to the table with a mouth watering meal for you family in no time!   Hearty homemade meals, easy clean up, saving time, saving money… what's not to love about casseroles!

Just click on Casseroles Made Simple to order your copy today!