My Best Pinto Beans
Disclosure: Some of the links below are affilate links, meaning, at no additional cost to you, I will earn a commission if you click through and make a purchase.
Pinto beans have gotten us through quite a few lean times. They are filling, nutritious and most importantly very cheap. You don't need much to cook them other than time. The end result is a yummy main dish that can also be stretched into several other meals (think bean burritos the next day). Here's my best pinto bean recipe.
1 pound dry pinto beans, about 2-1/3 cups
2 quarts of tap water
2 to 4 ounces margarine or bacon or salt pork or 1/4 cup bacon grease
1 teaspoon salt
1/4 teaspoon pepper
Soak the beans in 2 quarts of cold water overnight, or in 2 quarts of boiling water for an hour or two. After soaking, or the next day, bring the beans to a boil over medium high heat. Reduce the heat, so the beans merely simmer. Cover and simmer for half an hour. Then add the margarine or bacon, salt and pepper. Cover again and simmer for another 45 minutes to an hour. The beans should be tender and fragrant. Bite into one to see if it is cooked though. When they are tender, they are ready to serve.
I always serve these beans with Corn Bread and Mixed Greens. This is just about my favorite meal in the whole wide world. Some folks squirt ketchup on these beans when they eat them, that is a fine southern tradition, although I prefer them without it. The small amount of bacon adds to the protein quality of the beans, and it also turns the bean broth into something called pot licker. That means the juice is so good, you want to lick the pot. Soak up the bean juice with your corn bread.
Babies of about a year old are fond of cornbread mashed up very smoothly in a little pot licker from the beans. Just make sure to cool it down and mash it very smooth. It was a favorite of all of my kids when they were learning to feed themselves.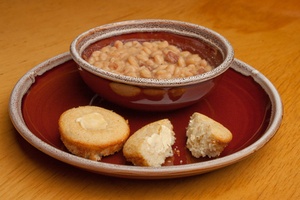 Got some leftover pintos? Turn them into refried beans or try one of the other yummy bean recipes.
Ready to cook some beans? Not only are beans a great way to add high quality nutrients to your family's diet, but they are versatile too. You can easily adjust flavoring or start out with a big pot of pintos to have with corn bread the first night, then turn them refried beans for bean burritos the following night.
You can use them as a main dish by serving them over rice, with tuna or serve them as a side dish. Here are 35 savory bean recipes from simple frugal dinners to dishes you can make for company.
Get your copy of the Thrifty Bean Cookbook today and start cooking.
Homemade Pinto Beans
Prep time:
Cook time:
Total time:
Ingredients
1 pound dry pinto beans, about 2-1/3 cups
2 quarts of tap water
2 to 4 ounces margarine or bacon
1 teaspoon salt
1/4 teaspoon pepper
Instructions
Soak the beans in 2 quarts of cold water overnight, or in 2 quarts of boiling water for an hour or two. After soaking, or the next day, bring the beans to a boil over medium high heat. Reduce the heat, so the beans merely simmer. Cover and simmer for half an hour. Then add the margarine or bacon, salt and pepper. Cover again and simmer for another 45 minutes to an hour