Yeast Pan Bread – Quick and Easy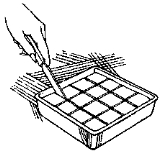 2 cups whole wheat or white flour or a combination
1/4 cup sugar or honey
1 teaspoon salt
1-1/2 teaspoons yeast or 1 packet of yeast
1/3 cup dry milk powder
1/4 cup oil
1 medium egg
1 cup warm tap water
In a mixing bowl combine the flour, sugar, salt, yeast and dry milk powder. Mix it up with a whisk or a fork until it is well blended. Add the oil, egg and warm tap water. Stir again, making a nice smooth mixture, along the consistency of cake batter. Turn the batter into a well oiled 8 or 9-inch, square or round pan. Set the pan aside in a warm place and allow the yeast to work for about 30 minutes. It won't look like it has risen very much. That is alright. Bake the bread at 400° for about 20 minutes. It will rise up golden brown and very pretty. Remove it from the oven when the top is medium dark brown. A knife inserted in the center should come out clean. Cut the bread into 12 pieces and serve hot with margarine. This yeast bread has a texture similar to muffins. You could even bake it in a muffin pan if you were so inclined. The flavor is so heavenly, your guests will beg for the recipe and never believe how easy it is to prepare. Excellent with any meal calling for a simple hot bread.
Here is another excellent hot bread recipe that's fast … cornmeal muffins. They are excellent with soups, stews and of course chili.
Disclosure: Some of the links below are affilate links, meaning, at no additional cost to you, I will earn a commission if you click through and make a purchase.