Whole Wheat Flat-Bread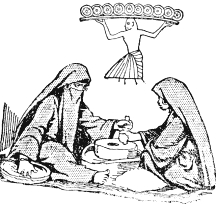 2-1/4 cups whole wheat flour
1 teaspoon salt
1 tablespoon oil or melted fat
1 cup tap water
Mixing by Hand: Get out a large bowl. In it combine the whole wheat flour and salt. Add the oil and water. Combine everything together to form a stiff dough. Mix it with your hands when it gets too stiff to mix with a spoon. If the dough seems dry, add a little more water, if it seems too wet, add a little more flour. Work and knead the dough for 10 minutes by the clock. All of this kneading is what makes a tender finished product. After kneading the dough, cover it with a dish towel or plastic wrap. Allow it to rest for at least 30 minutes. This will make it easier to roll out. You may allow it to rest over night if desired.
Mixing by Bread Machine: Measure all of the ingredients into the machine's bread pan. Start the machine and allow it to mix and knead the dough for you. Set your timer for 10 minutes, or watch the clock. When the time is up, turn off the machine. You should have a nice stiff ball of dough inside of it with a clay-like consistency. Allow the dough to rest inside the machine for at least 30 minutes, or as long as overnight. It won't rise because it doesn't have yeast in it.
Rolling & Shaping the Dough: After the dough has rested, divide it into 8 or 10 pieces. Roll out each piece into a large thin circle. I roll mine out on waxed paper dusted with flour, or a square piece of clean muslin cloth dusted with flour. Make the flat-bread as thin as possible. Roll out all of the flat-bread before you begin to cook them if possible. This makes the work go faster. The thinner you can roll the dough, the more tender the finished product will be.
To Make Chapatis: After rolling out the dough, heat a dry iron skillet over medium-high heat.

When it is hot, place one of the prepared flat-bread on it. Let it cook for about 10 seconds and then flip to the other side. Cook the second side for about a minute, or until it is brown and puffy. Flip the flat-bread again and cook the first side for about another minute. It will be light brown, tender and puffed with little bubbles all over.
To Make Fry-Bread: After rolling out the dough, heat about 1/2 an inch of oil in a large skillet. Get the oil very hot, almost smoking, or about 375°. Carefully slip a prepared flat-bread into the hot oil. Press it down gently with a pair of tongs so that it is submerged in the hot oil. The bread will bubble up and puff all over. Use tongs to turn it and brown the other side. Remove it and place it on a paper towel covered plate, or a brown paper bag to drain. Continue with the rest of the flat-bread, until all are cooked.
Here is another one of my best bread recipes… a family yeast bread. This is the bread I make every week for our everyday consumption.
Disclosure: Some of the links below are affilate links, meaning, at no additional cost to you, I will earn a commission if you click through and make a purchase.