Tender Cornmeal Muffins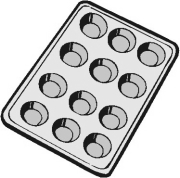 2 cups yellow corn meal
2 teaspoons baking powder
1 teaspoon salt
1 tablespoon margarine
2 cups boiling water
1 cup milk
2 medium eggs
Bring 2-cups of water to a boil on the stove or in the microwave. While the water is heating, combine the cornmeal, baking powder, and salt. Have the margarine close by. Pour the boiling water into the cornmeal mixture. Stir and stir and stir. The mixture will lump up some, but if you keep stirring it will smooth out. Add the margarine and stir until it melts. I use a whisk to mix this up because it is best for getting rid of the lumps. Next add the milk. Once again, stir until the mixture is smooth. Now add the eggs and continue mixing until the whole thing is smooth. Turn the batter into well oiled muffin pans. Bake at 475° for about 17 minutes. They will be golden brown and puffed when they are done. Remove them from the pan after cooling a little. Makes about 24 muffins. These are very tender and are best served slathered in margarine and eaten hot. Excellent for breakfast, or as a hot bread with lunch or supper. Spicy dishes make a superb foil to these delicate morsels of goodness.
Here's another frugal bread for your family to enjoy – the southern batter bread recipe. It's a true hilbilly recipe.
Disclosure: Some of the links below are affilate links, meaning, at no additional cost to you, I will earn a commission if you click through and make a purchase.