Slow Cooker Reviews
I'm a big fan of crockpot cooking. No matter how busy I get or how much running around town I've got to do, I know a yummy home-cooked meal will be ready when we get home.
As you know, I've recently written and published a Kindle cookbook of Chicken Crockpot recipes. It's been very well received and I love reading through the emails from happy readers. I noticed that I received quite a few questions about what slow cooker I recommend. I wish I could point you to one product that's perfect for everyone, but in reality the answer is that it depends.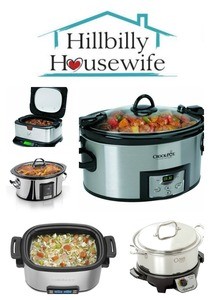 It depends on the needs of your family, whether or not you need to travel with your slow cooker, your cooking habits and of course your budget. I decided to sit down and take a closer look at a few of my favorite slow cooker models and review them for you. I hope the extensive reviews of the 7 slow cookers in this short report will help you make the right purchasing decision.
For delicious slow cooker recipes, visit the crockpot recipe section on the Hillbilly Housewife website and take a look at Crockpot Cooking Made Simple.
Plus there is a series of crockpot cookbooks I'm publishing on Amazon as Kindle cookbooks. You can find them via my Amazon Author Page at http://www.amazon.com/Hillbilly-Housewife/e/B0093KORPW/
Disclosure: Some of the links below are affilate links, meaning, at no additional cost to you, I will earn a commission if you click through and make a purchase.