Teriyaki Noodles – Easy Recipe
Let's talk about teriyaki noodles. I've been obsessed  with this simple Asian-inspired recipe lately. It's a delicious and filling side dish, but also works for lunch on it's own. It's great to make leftovers stretch. For example, if you have a little chicken or pork left over from dinner the night before, make a batch of these noodles, dice or shred the meat and add it at the end. This is such a versatile dish. You have to give this teriyaki noodle recipe a try.
You can make this dish with your favorite store-bought sauce. I prefer to make my own. I shared my stove-top recipe for homemade teriyaki sauce as well as an even easier Instant Pot Teriyaki Sauce recipe. I encourage you to give either (or both of them) a try. The result is so much better than the bottled stuff.
The traditional way to make this is with soba or buckwheat noodles. While you can certainly find those at your local grocery store these days, regular spaghetti are much more affordable. I often use whole wheat, but plain spaghetti work just as well. If you need this to cook even quicker, try angel hair pasta and slice your veggies paper thin so they cook in just a minute or two in the pan or wok.
Teriyaki Noodle Recipe
Ingredients
8 ounces uncooked soba (buckwheat) noodles or whole wheat spaghetti
1 tablespoon vegetable oil
1 large onion, sliced
1 stalk of celery, sliced
1 carrot, shredded or thinly sliced
1 (8-ounce) package sliced mushrooms (optional)
1/3 cup teriyaki sauce
1/4 cup chopped green onion
Instructions
Cook and drain noodles as directed on package.
Heat oil in a skillet or wok over medium-high heat. Add onion, celery, and carrot. Cook for about 3 minutes or until the vegetables start to soften.
Add the mushrooms if desired and cook an additional 3 minutes.
Add the teriyaki sauce and stir until well combined. Lower the heat and cover the pan. Allow the dish to simmer for a few minutes.
When the vegetables are tender, add the noodles and stir until they are well covered in the sauce.
Top with green onion and serve.
© 2023 Copyright www.HillbillyHousewife.com
For even more quick and easy recipes, take a look at the Homemade Mixes Cookbook available on Amazon.
Homemade Mixes – Make It Yourself and Save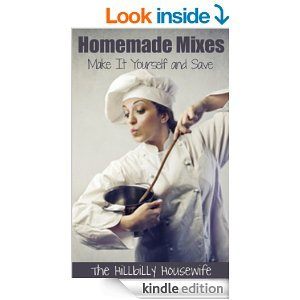 Making your own mix from scratch rather than buying it in the store not only saves you money but also saves you from all the additives and preservatives that are put in the foods we buy. The recipes include:
Apple Pie Spice Mix
Basic Muffin Mix
Brownie Mix
Caribbean Jerk Seasoning
Chocolate Chip Cookie Mix
Corn Bread Mix
Cream of Soup Mix
Fajita Seasoning
Fish Fry Coating Mix
Fruited Oatmeal Mix
Homemade Taco Seasoning Mix
Homemade Vanilla Chai Tea Mix
Disclosure: Some of the links below are affilate links, meaning, at no additional cost to you, I will earn a commission if you click through and make a purchase.