Homemade Teriyaki Sauce Recipe
Have you tried making your own teriyaki sauce? It's surprisingly easy and the end result is as tasty as it is frugal. Give this homemade teriyaki sauce recipe a try and let me know how you like it. I love it over noodles, as a marinade for chicken, or in any dish that calls for store-bought teriyaki sauce like the chicken teriyaki recipe I shared here on the blog a few days ago. It only takes a few minutes to whip up a batch of this and chances are you already have most of the ingredients in your pantry. If you don't have fresh ginger on hand, add a dash of powdered ginger as you cook the sauce. You can also substitute dry garlic powder for fresh if  needed. A good dash of dry ginger and garlic powder will do the trick. For a low sodium Teriyaki sauce, use low sodium soy sauce.
Easy Teriyaki Sauce
Ingredients
Cornstarch Slurry:
1/4 cup water
2 tbsp corn starch
1 cup water
1/4 cup soy sauce
4 tbsp brown sugar
1 clove of garlic
1/2 tsp ginger
Instructions
Mince the garlic and ginger.
Make a cornstarch slurry by combining the water and corn starch. Stir until there are no clumps. This works best with cold water.
Combine the remaining ingredients in a saucepan over medium high heat. Add the corn slurry and bring the mixture to a boil.
Boil for a minute or two stirring constantly. Take the pan off the heat. Allow the teriyaki sauce to cool. It will start to thicken. Store in the fridge for up to a week.
© 2023 Copyright www.HillbillyHousewife.com
I hope you and your family will enjoy this homemade teriyaki sauce recipe as much as we have. For even more quick and easy recipes for things you'd normally buy at the store, take a look at the Homemade Mixes Cookbook available on Amazon.
Homemade Mixes – Make It Yourself and Save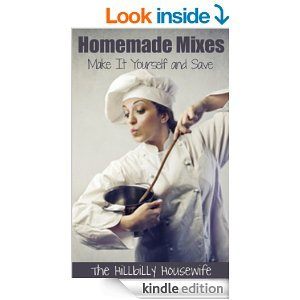 Making your own mix from scratch rather than buying it in the store not only saves you money but also saves you from all the additives and preservatives that are put in the foods we buy. The recipes include:
Apple Pie Spice Mix
Basic Muffin Mix
Brownie Mix
Caribbean Jerk Seasoning
Chocolate Chip Cookie Mix
Corn Bread Mix
Cream of Soup Mix
Fajita Seasoning
Fish Fry Coating Mix
Fruited Oatmeal Mix
Homemade Taco Seasoning Mix
Homemade Vanilla Chai Tea Mix
Disclosure: Some of the links below are affilate links, meaning, at no additional cost to you, I will earn a commission if you click through and make a purchase.