Slushies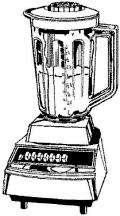 2 cups ice water
1 packet fruit-flavored drink mix (use your favorite flavor)
2/3 cup sugar
4 cups or 1 full tray of ice cubes
You need a blender to prepare this recipe. Put all of the ingredients into your blender. It will be about 2/3 to 3/4's full. Put the lid on. Process the mixture on high for a full minute. Stop the blender, use a spoon to stir it a bit. Look for unchopped ice chunks. If all the chunks are grated up, then go ahead and serve it. You may need to process it for another full minute though. Serve immediately. I usually have to spoon this out of the blender with a measuring cup because the mixture is so thick. Makes 4 – 8oz servings.
I cannot praise this recipe enough. It costs less than 25¢ for the whole batch, or about 6¢ per serving. My boys beg me to make this afterschool during hot weather and all day long in the summer. It is a real treat, and so easy to make too. Highly Recommended!
While not quite as frugal a drink, you may also enjoy this Cafe Latte Mix… it's definitely a lot cheaper than buying the mix at the store.
Disclosure: Some of the links below are affilate links, meaning, at no additional cost to you, I will earn a commission if you click through and make a purchase.