Simple Chicken & Dumplings
Tracy Roberts over at Moms In A Blog is putting together a sweet little Kindle ebook called Cooking from the Pantry:  The Busy Mom's Guide to Creating Fabulous No-Fuss Meals in 30 Minutes or Less and I get to show you a sneak peek.
Here's a quote from the ebook:
Organization Isn't The Problem

I am a:

Wife
Mother
Online Business Owner
Keeper of My Home
Homeschool Teacher

Those things keep me pretty busy.  There are things I choose not to focus on because other things are more important.  For instance, I'd rather sit on the floor playing with my kids than sweep or mop it.

I am not an overly organized person. That doesn't mean I don't have structure to my day, it simply means that I don't take the time to do extensive meal planning, cut coupons or spend a ton of time at the grocery store.

I do, however, cook pretty good meals that my family likes to eat in less time than it takes to watch an episode of your favorite TV show.
I suppose you could call it a system of sorts that I fell into based on the foods I was cooking that actually got consumed.  You know the drill.  Figure out what's working (or what they'll eat) and do more of that.

After a bit, I realized the same items kept cropping up on my list so I was able to just stock up on items as needed and when they went on sale I bought extra because I knew I'd be using them.
Can you relate?  I know I can.  In fact, I couldn't wait to get a few of her yummy sounding recipes so she agreed to share one of her family's favorites.
Simple Chicken & Dumplings
1 bag Individually Quick Frozen (IQF) Chicken Tenders (or whatever chicken you'd like to use)
1-2 medium Onions, Chopped (We like onions)
1 can Evaporated Milk
Chicken Bullion
Bisquick
Butter
Carrots (optional-I add them because the kids will eat them.)
Add a stick of butter to a large pot, melt.
Add bag of chicken and chopped onions.  Cook until chicken is browned and most of the butter is gone.
Break up chicken into pieces/shreds.  I just use the wooden spoon I'm cooking with. Now, add enough water to cover the chicken.  Add bullion, to taste.  I use a powder since it disolves better.  Add the can of evaporated milk.  Adjust water levels & bullion, if needed to create the amount of servings you need.
Mix Bisquick with water and follow the instructions on the box for dumplings, if you prefer to roll them out.  More often than not I just do drop dumplings (like drop biscuits).  I mix the Bisquick & water together and then drop into the pot of boiling soup.
Add carrots, if you'd like and then cook until thickened.
Once thickened to your liking, dinner is ready to be served.
Perhaps I can get her to share a couple more of her recipes to tide you over until the ebook is ready.  In the meantime, please enjoy and let me know what you think.
By the way, you can use the recipe for my Homemade Biscuit Mix instead of Bisquick.  😉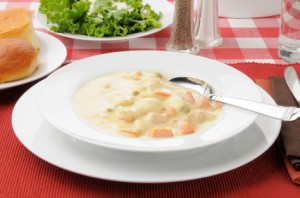 Disclosure: Some of the links below are affilate links, meaning, at no additional cost to you, I will earn a commission if you click through and make a purchase.