Ranchy Mashed Potatoes
I love these tangy mashed potatoes. The flavor is bold enough to stand up to all the other great Holiday flavors. Give them a try this year and see if they don't quickly become a Thanksgiving favorite.
To make it festive, cut up some chives, green onion, dill or parsley and sprinkle it over the top of your mashed potatoes.
Creamy Ranch Mashed Potatoes
Prep time:
Cook time:
Total time:
Ingredients
8 baking potatoes, peeled and quartered
1 (8 ounce) package cream cheese
1 (1 ounce) package ranch dressing mix, or 3 tbsp of this homemade buttermilk ranch dressing mix
1 cup sour cream
1/2 cup butter
Instructions
Start by peeling the potatoes and cutting them into chunks.
[img src="http://www.hillbillyhousewife.com/site/wp-content/uploads/2013/11/ranch-mashed-potatoes-300×198.jpg" alt="" width="300″ height="198″ class="alignright size-medium wp-image-23620″]Bring some water to a boil in a large pot. Add a generous pinch of salt and the potatoes. Cook them until they are tender. Depending on the size of your potato chunks this should take about 20 to 30 minutes.
Drain the potatoes and return them to the pot. Mash them with a potato masher or for smoother mashed potatoes use a hand mixer.
Using the hand mixer, cream the cream cheese and ranch dressing mix together. Stir this mixture as well as the butter and sour cream into your mashed potatoes and serve.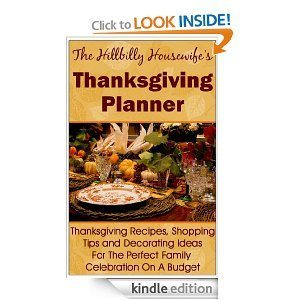 The Hillbilly Housewife Thanksgiving Planner
Don't run around like a chicken (or should that be turkey?) with its head cut off on Thanksgiving morning. The Hillbilly Housewife's Thanksgiving Planner will help you plan ahead and stay on top of things so you can actually enjoy Thanksgiving with your family & friends.
If you take a quick minute to read the first chapter you'll realize how easy your Thanksgiving celebration will be. There are plenty of tips and ideas to make sure this year's feast doesn't stretch your budget to the breaking point, too.
There are also 2 bonuses tucked inside: A printable planner & checklist and all of the recipes in a printable pdf file.
http://www.amazon.com/The-Hillbilly-Housewifes-Thanksgiving-Planner-ebook/dp/B00A81OQ56
Disclosure: Some of the links below are affilate links, meaning, at no additional cost to you, I will earn a commission if you click through and make a purchase.