Buttermilk Ranch Dressing Mix Recipe
If  you've followed me for any length of time, you know that I love to make things from scratch. I like having full control over the ingredients, and for the most part, making your own convenience foods is less expensive, and often more convenient than running to the store. This homemade buttermilk ranch dressing mix recipe is the perfect example. I'm sure you have several recipes you like to make that call for a packet of ranch dressing mix. Making your own is as simple as mixing up a handful of herbs and spices in a clean glass jar. Store it in your pantry and whenever you need a pack of the dry mix, scoop out three tables spoons. It's that easy.
Buttermilk Ranch Dressing Mix Recipe
Ingredients
0.5 cup dry buttermilk powder
1 tbsp dried parsley
1 tsp dry dill
2 tsp garlic salt
1 tsp dry onion
1 tsp dry onion powder
1 tsp salt (optional)
pinch of pepper (optional)
Instructions
Mix all ingredients in a clean jar and store until ready to use.
I omit the salt and pepper at this stage. I prefer to add it to taste depending on what I use the mix for.
© 2023 Copyright www.HillbillyHousewife.com
Use 3 table spoons of this mix in any recipe that calls for a packed of ranch dressing mix.
To make ranch dressing, mix 3 tbps with a cup of milk and a cup of mayonnaise. For a dip replace the milk with plain yogurt or sour cream.
For more recipes for simple mixes and "convenience foods" that you can make yourself, check out:
Homemade Mixes – Make It Yourself and Save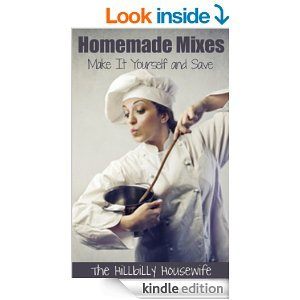 Making your own mix from scratch rather than buying it in the store not only saves you money but also saves you from all the additives and preservatives that are put in the foods we buy. The recipes include:
Apple Pie Spice Mix
Basic Muffin Mix
Brownie Mix
Caribbean Jerk Seasoning
Chocolate Chip Cookie Mix
Corn Bread Mix
Cream of Soup Mix
Fajita Seasoning
Fish Fry Coating Mix
Fruited Oatmeal Mix
Homemade Taco Seasoning Mix
Homemade Vanilla Chai Tea Mix
Disclosure: Some of the links below are affilate links, meaning, at no additional cost to you, I will earn a commission if you click through and make a purchase.