Hot Cocoa Mix
4 cups instant nonfat dry milk powder
1-1/2 to 2 cups sugar
1 cup powdered non-dairy creamer (coffee lightener like Creamora)
2/3 cup unsweetened cocoa
1 package of instant store-bought chocolate OR vanilla pudding mix (optional, but very good)
Measure all of the ingredients into a dry clean bowl. Use a whisk to sort of stir everything together. If the cocoa clumps up, smash the little balls with a fork. When everything is evenly distributed, transfer the Hot Cocoa Mix to a clean coffee can, or a sealed canister. Use 2 cups of sugar if you are making this for kids. The extra sweetness makes it especially kid-friendly. For grown-ups you could add 1/4 cup of instant coffee for a nice mocha flavor.
To Prepare: Spoon 1/3 cup of the hot cocoa mix into a cup or mug. Add boiling water to the top, stir and serve.
This stuff tastes really, really good. It is great for cold weather when you've been out sledding or picking apples. If you go camping, bring along a big bag of this stuff. It tastes best when sipped from inside a sleeping bag on a cool October morning, in the middle of the woods. Life just doesn't get any better than this. 🙂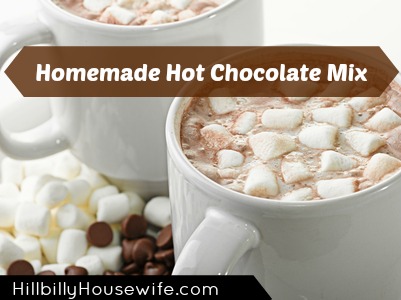 To hot for hot cocoa? How about some homemade ice tea instead. I'm sure your family will enjoy this frugal beverage as much as mine does.
Disclosure: Some of the links below are affilate links, meaning, at no additional cost to you, I will earn a commission if you click through and make a purchase.