Homemade Vegetable Broth
I've fallen victim to a rather lazy trap and I guess it's time to confess – I love having cans of chicken broth in my pantry. Lots and lots of cans of chicken broth.
I discovered this addiction while I was cleaning out my pantry recently. There they were – six big cans of chicken broth. Adding up the money is what got me thinking about this wasteful habit.
Of course, approximately 9 out of 10 recipes call for chicken broth, so why not stock up? The answer is simple. The cost of canned chicken broth is outrageous.
Typically, I would now be offering up my recipe for making your own chicken broth. But wait. Before you go out and buy a bunch of whole chickens to make your own chicken broth, I had another epiphany.
Why chicken broth?
The last time I made a chicken casserole that called for chicken broth to be added, it should have struck me then. You already have the chicken in the casserole, why do you need more chicken in the added broth. What would you miss if you used something else, like vegetable broth?
Of course, I checked the price of vegetable broth in the grocery store before I took my next step and found that even the vegetable broth was outrageously expensive. And, along with the expensive, I checked the ingredients.  Why all the added sugar?
The next logical step, of course, was to make my own vegetable broth and use that as the basis for my casseroles, soups, and stews.
So, that is exactly what I did.  Here is the process I used to make my very own tasty, frugal, and nutritious vegetable broth.
I scrubbed and washed some carrots. These were the real carrots, full sized, not baby carrots.  The flavor of fully grown carrots is much heartier.  For the big soup pot I was using, I used a whole bunch of carrots, but I would cut that in half.  The broth was a little too sweet for my taste.
I didn't bother to peel them; just took my vegetable scrubber and got them clean. A coarse chop was next, just throwing away the very top part.
I washed and cut up celery, including the tops.
A coarse chop with the celery is just fine as well because everything gets strained out anyway.
Nothing in a vegetable broth has to be bite-sized because once the vegetables are boiled and simmered for hours, there's no flavor left in them (it's all in the broth) so the vegetables get strained out and composted.
The surprise ingredient is the radishes.  I have never found a broth recipe that calls for radishes, but I had some on hand so I scrubbed those, cut them in half, and threw them in.
And why not? I like the peppery flavor and they would probably will add a little color to the vegetable broth as well. As it turned out, they made a nice addition to the broth.
This next step I think is crucial to a good vegetable broth.
I scrubbed up some yellow onions, cut them in half, and threw them in the pot. I am of the Jamie Oliver school of cooking when it comes to this sort of rough cooking. Wash the onions and put them in skin and all. Not only does it add nutritional value but the yellow skins add rich color to the broth. Scrub the roots well, but if you're squeamish about the roots, just cut them off.
Then a handful of salt and about 10 whole peppercorns, garlic if you like, and cover with fresh, cold water, and voila!  You have the beginning of a beautiful broth!
But, before you get your pot boiling, there's one last Secret Ingredient that makes all the difference between a pot of watery vegetables and a real rich vegetable stock that actually looks and tastes rich like chicken stock.
Olive oil.
Yes, drizzle about a tablespoon or so of olive oil in your vegetable broth and you won't miss the chicken!
Now, bring your pot to a boil with the cover off, not too quickly, over medium high heat, then turn it down to a slow simmer, put the lid on, tipped to keep the pot from boiling too hard.
Your simmer should be a gentle bubble and not produce any foam.  If you get foam, you're boiling too fast. Cook this as long as possible to get the most flavor; at least a couple hours.  Then, adjust your seasonings, cool and store as you wish.
NOTE: The next time I make my vegetable broth I would cut the amount of carrots in half. Too many carrots make for a sweet broth and I prefer my broth a bit less sweet. I also would stick with yellow onions and not try the sweet onions for the same reason – just not enough onion flavor, which I prefer. You can also add other spices and seasonings, but I like having the basic broth ready for recipes which I'll be adding the seasonings to anyway.
I ladled out a bit of the broth before I poured it into my freezer containers so you could see the results. It did turn out pretty colorful and rich.
For the cost of a couple carrots, a bunch of celery, a half dozen or so yellow onions, some water and spices, I have a nice supply of flavorful broth stored in my freezer. What other broth do I really need?
This is one frugal tip worth trying today!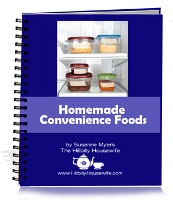 Make even more convenience foods right at home! You'll save money, control ingredients, and avoid expensive "fast foods" when you start making your own favorite convenience foods. Click on here to find out about our informative resource Homemade Convenience Foods – and dig into over 200 recipes for handy convenience foods you can make at home.
Eliminate those prepackaged foods from your pantry, eat healthier and cheaper while still cooking fast. Order your copy today!
Disclosure: Some of the links below are affilate links, meaning, at no additional cost to you, I will earn a commission if you click through and make a purchase.