Homemade Tartar Sauce
I shared my recipe for my favorite fish fry mix on the blog recently and there's nothing better with fried fish than a batch of homemade tartar sauce. It's surprisingly easy to make and so much better than the bottled kind. Give it a try. Start with the recipe as written and then adjust for your own taste. You can use less or more of any of the ingredients. If the flavor is a bit strong for your taste as is, add another spoonful of mayonnaise. If it doesn't have enough kick, add a dash of lemon or even a pinch of cayenne pepper. It's your sauce. Play with the ingredients until you end up with something you love.
Easy Tartar Sauce Recipe
Ingredients
1 cup mayonnaise
1 tsp grated onion
2 tsp mince dill pickles
1 tsp finely chopped dill
1 tbsp minced parsley
2 tsp minced pimentos
Instructions
Grate or chop all ingredients and place them into a mixing bowl. Add mayonnaise and mix well. Place in the refrigerator to chill.
If you like a little more kick to your tartar sauce, you can add a few drops of lemon juice or a few capers.
© 2023 Copyright www.HillbillyHousewife.com
For more simple recipes like this homemade tartar sauce, you can make from scratch, pick up a copy of my Kindle Cookbook. It includes a great fish fry mix recipe along with plenty of other mixes you're going to want to try.
Homemade Mixes – Make It Yourself and Save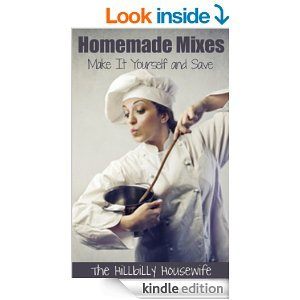 Making your own mix from scratch rather than buying it in the store not only saves you money but also saves you from all the additives and preservatives that are put in the foods we buy. The recipes include:
Apple Pie Spice Mix
Basic Muffin Mix
Brownie Mix
Caribbean Jerk Seasoning
Chocolate Chip Cookie Mix
Corn Bread Mix
Cream of Soup Mix
Fajita Seasoning
Fish Fry Coating Mix
Fruited Oatmeal Mix
Homemade Taco Seasoning Mix
Homemade Vanilla Chai Tea Mix
Disclosure: Some of the links below are affilate links, meaning, at no additional cost to you, I will earn a commission if you click through and make a purchase.