Homemade Fish Fry Mix Recipe
I have a confession to make. I don't fry fish most of the year, even though it's a family favorite, especially when I use this homemade fish fry mix recipe to make the coating. The problem is that I don't like the smell in the house. It lingers, no matter how careful you are or how well you air things out after the fact. That's why we mostly fry fish during the summer months. It's easy to do outside. I use an electric fryer, but you could just as easily take a cast iron pan outside and use a propane stove, a hot plate, or even the grill. Just make sure you can control the temperature of the oil so things don't get out of control and you burn the fish… because that would be sad. If the smell of fried fish doesn't bother you, make this year round on the stove or use your fryer in the kitchen.
Now let's talk about the important part – the fish fry mix. You have to get this one right. Thankfully, it's simple. Just a handful of ingredients and you're good to go. It's worth making this from scratch. Not only is it inexpensive, it's fresh and there are no added preservatives or weird flavor-enhancers. Give it a try and coat your favorite fish for frying with this mixture. You'll find the recipe below along with directions for using the mix. The homemade fish fry mix recipe is from the Homemade Mixes Kindle Cookbook.
How To Make Fish Fry Mix From Scratch
Ingredients
1 cup all-purpose flour
2 cups yellow cornmeal
2 tsp. paprika
1 tsp. dried parsley flakes, crushed
1 tsp. celery salt
1 tsp. onion salt
1 tsp. lemon pepper
1 tsp. salt
1/2 tsp. ground red pepper
Instructions
Combine all ingredients in a large bowl, mix well. Store in an airtight container.
© 2023 Copyright www.HillbillyHousewife.com
To Use This Fish Fry Mix:
Ingredients:
1 cup buttermilk
1 egg
Coating mix
Directions:
Heat oil in a large skillet.
Combine buttermilk and egg in a separate bowl.
Put mix into a gallon size plastic bag.
Dip fish into egg mixture and put into bag. Shake fish around until well coated and add to hot skillet. Fry until fish is golden brown.
That's it.. You'll have golden and crispy fried fish in no time. Make a bit of tartar sauce to go with it and you're good to go.
For more recipes like this pick up a copy of: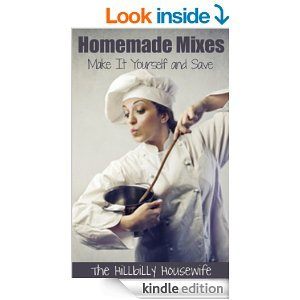 Making your own mix from scratch rather than buying it in the store not only saves you money but also saves you from all the additives and preservatives that are put in the foods we buy. The recipes include:
Apple Pie Spice Mix
Basic Muffin Mix
Brownie Mix
Caribbean Jerk Seasoning
Chocolate Chip Cookie Mix
Corn Bread Mix
Cream of Soup Mix
Fajita Seasoning
Fish Fry Coating Mix
Fruited Oatmeal Mix
Homemade Taco Seasoning Mix
Homemade Vanilla Chai Tea Mix
Disclosure: Some of the links below are affilate links, meaning, at no additional cost to you, I will earn a commission if you click through and make a purchase.