Homemade Taco Seasoning
1 tbsp. chili powder
2 tsp. onion powder
1 tsp. ground cumin
1 tsp. garlic powder
1 tsp. paprika
1 tsp. dry oregano
1 tsp. sugar
1/2 tsp. salt
Put all the ingredients in a bowl and whisk together well.
This recipe is equal to 1 pack of store-bought taco seasoning.
Store the mix in airtight ziplock bags or glass jars with good lids.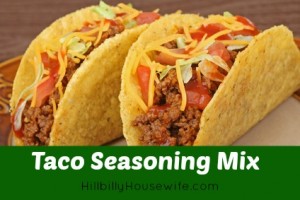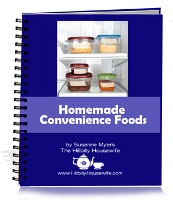 Make even more convenience foods right at home! You'll save money, control ingredients, and avoid expensive "fast foods" when you start making your own favorite convenience foods. Click on here to find out about our informative resource Homemade Convenience Foods – and dig into over 200 recipes for handy convenience foods you can make at home.
Eliminate those prepackaged foods from your pantry, eat healthier and cheaper while still cooking fast. Order your copy today!
Disclosure: Some of the links below are affilate links, meaning, at no additional cost to you, I will earn a commission if you click through and make a purchase.