Homemade Gravy Recipe
Making beef gravy from scratch (or any other type of gravy for that matter) has become a bit of a lost art. If you find yourself buying jar after jar of gravy at the store, or making it from one of those little powder mixes, I encourage you to give the homemade gravy recipe below a try. You'll be pleasantly surprised by how easy it is to make. It is delicious over mashed potatoes. Brown some hamburger meat, make a batch of gravy and serve it on toast for a fast and inexpensive weekday dinner. Or make a batch of gravy to go with that roast you're cooking.
Homemade Gravy Recipe
Ingredients
1/4 cup butter
1/4 cup flour
2 cups beef broth
1/4 tsp salt
1/4 tsp black pepper
Instructions
Place butter in a saucepan and let it melt.
Add flour and mix with a whisk until all the lumps are out.
Next, stir in salt and pepper.
Cook this mixture over medium-low heat for about 4 to 5 minutes (you just want your mixture to brown slightly.)
Reduce the heat and stir in beef broth. Make sure that you are stirring constantly.
Place the heat back to medium and cook until it reaches a boil.
Season to taste.
© 2023 Copyright www.HillbillyHousewife.com
You can change this gravy to chicken or turkey by simply changing the beef broth to chicken or turkey broth.  If you are a vegetarian, you can also switch the beef broth to vegetable broth. You may need to use a little more seasoning depending on your taste.
If you don't want to make the gravy from scratch using butter and broth, try this homemade brown gravy mix recipe. I keep a batch in my pantry.
For more recipes for simple mixes and "convenience foods" that you can make yourself, check out:
Homemade Mixes – Make It Yourself and Save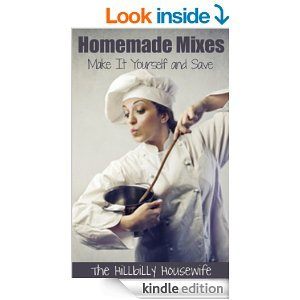 Making your own mix from scratch rather than buying it in the store not only saves you money but also saves you from all the additives and preservatives that are put in the foods we buy. The recipes include:
Apple Pie Spice Mix
Basic Muffin Mix
Brownie Mix
Caribbean Jerk Seasoning
Chocolate Chip Cookie Mix
Corn Bread Mix
Cream of Soup Mix
Fajita Seasoning
Fish Fry Coating Mix
Fruited Oatmeal Mix
Homemade Taco Seasoning Mix
Homemade Vanilla Chai Tea Mix
Disclosure: Some of the links below are affilate links, meaning, at no additional cost to you, I will earn a commission if you click through and make a purchase.