Brown Gravy Mix Recipe
Let's talk gravy. More specifically, let's talk about this homemade brown gravy mix recipe. Why would you want to make up a batch of this and store it in your pantry? There are quite a few recipes out there that call for a pouch of brown gravy mix. You can use three tbsp of this mix instead. It also comes in handy when you're making a batch of mashed potatoes and want a little gravy to go on top. Last but not least, brown gravy is a tasty addition to many meals.
If you find yourself buying those little gravy mix packets, give this a try instead. It will save you a few pennies here and there, but more importantly, you control the ingredients in this homemade gravy mix. You control the salt and there are no additives or preservatives to worry about. Give it a try. I think you'll like it.
Brown Gravy Mix Recipe
Ingredients
3/4 cup all-purpose flour
3 tbsp beef bullion powder
2 tbsp onion powder
1 tsp garlic powder
1 tsp black pepper
1 tsp dried parsley
Instructions
Mix and store in an airtight container.
To use the homemade brown gravy mix:
Mix 4 tbsp of the mix with 1 cup of cold water. Whisk until smooth. Heat in a small saucepan over medium hit stirring constantly until it thickens.
Optional preparation with butter:
Heat 1 tbsp of butter in a pan. Add 4 tbsp of the gravy mix. Stir it around in the melted butter for a minute. Add 1 cup of water and whisk until smooth. Bring to a boil and cook for a minute or two. The gravy will start to thicken.
© 2023 Copyright www.HillbillyHousewife.com
I often use this in combination with the buttermilk ranch mix I shared a few days ago. For more recipes for simple mixes and "convenience foods" that you can make yourself, check out:
Homemade Mixes – Make It Yourself and Save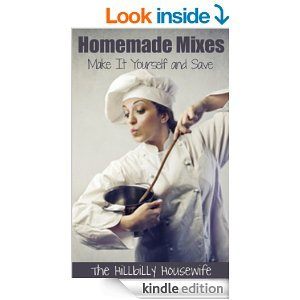 Making your own mix from scratch rather than buying it in the store not only saves you money but also saves you from all the additives and preservatives that are put in the foods we buy. The recipes include:
Apple Pie Spice Mix
Basic Muffin Mix
Brownie Mix
Caribbean Jerk Seasoning
Chocolate Chip Cookie Mix
Corn Bread Mix
Cream of Soup Mix
Fajita Seasoning
Fish Fry Coating Mix
Fruited Oatmeal Mix
Homemade Taco Seasoning Mix
Homemade Vanilla Chai Tea Mix
Disclosure: Some of the links below are affilate links, meaning, at no additional cost to you, I will earn a commission if you click through and make a purchase.