Easy Carrot Cake Recipe
Using a box mix (or my own simple yellow cake recipe) makes this a very easy carrot cake recipe. The 2 cups of carrots are just enough to give this cake that special texture and sweet flavor. The salad dressing ensures that the cake stays moist and of course the frosting tops it all off.
This is a fun and easy cake to make with the kids and one that will hopefully get them interested in carrots as a regular vegetable or in a salad as well.
Easy Carrot Cake
1 box yellow cake mix (or homemade yellow cake)
1 1/4cup Miracle Whip salad dressing
4 eggs
1/4cup water
2 tsp. cinnamon
2 cups shredded carrots
1/2 cup walnuts (chopped)
Mix together cake mix, Miracle Whip, eggs, water and cinnamon until the batter is smooth. Fold in carrots and walnuts. Transfer to a 9×13 greased pan.
Bake at 350 degrees for 35min. Cool and cover with icing.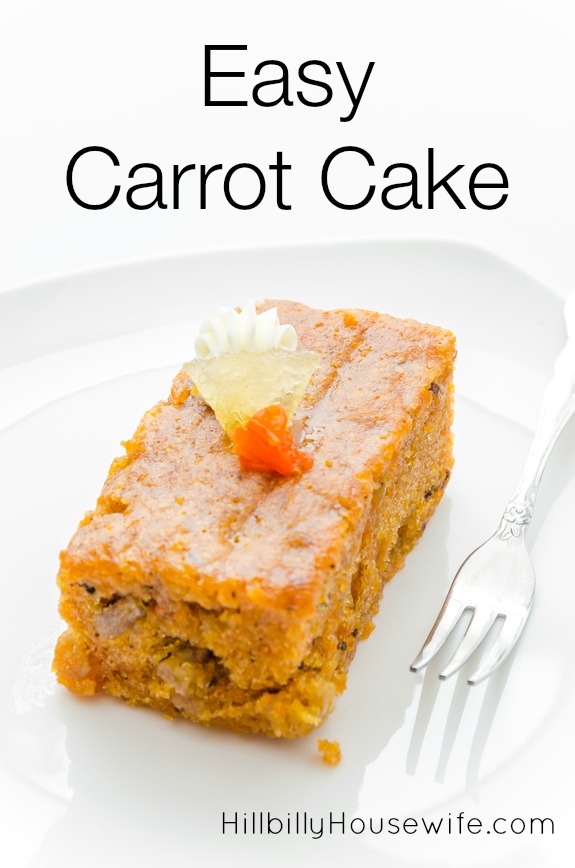 Disclosure: Some of the links below are affilate links, meaning, at no additional cost to you, I will earn a commission if you click through and make a purchase.