Crockpot Chicken Fricassee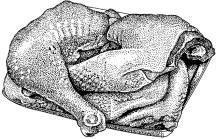 4 to 5 pounds chicken, stewing, cut into serving pieces (leg meat is fine)
2 teaspoons salt
1 teaspoon paprika
2 onions, sliced
3 stalks celery, sliced
2 carrots, pared and sliced
1 bay leaf
1 cup chicken broth
1/2 cup flour
1/2 cup water
1 10-ounce package noodles, cooked and drained
Parsley, chopped
Rinse chicken pieces and pat dry. Season with salt and paprika. Place sliced vegetables and bay leaf in crock pot. Place chicken on top of vegetables. Pour in chicken broth. Cover and cook on LOW setting for 7 to 12 hours. One hour before serving; turn to HIGH setting. Remove chicken pieces; bone and return meat to the crock pot. Make a smooth paste of flour and water and stir into liquid in crock pot. Cover and cook until thickened. Serve over hot noodles; sprinkle with chopped parsley.
Ready to learn more about crockpot cooking? Get my Crockpot Cooking Made Simple ebook today and find out how you can work this into your meal plan, how to choose a good crockpot and most importantly how to convert your favorite recipes to work in a slow cooker.
Disclosure: Some of the links below are affilate links, meaning, at no additional cost to you, I will earn a commission if you click through and make a purchase.