Homemade Convenience Foods
Are convenience foods ruining your budget and robbing you of your hard earned cash?  Fight back with these great recipes.  Create your own convenience foods, and pocket monstrous savings in the process.  Begin by substituting your Homemade Granola for expensive Zowie Wowie Sugar Puffs.  Then move on to more ambitious projects like Biscuit Mix, Flavored Rice, Pudding, TVP & Bean Burrito Mix and others.  You will be amazed at how many items you can make at home in your own kitchen, instead of buying their over priced cardboard counterparts at the Market.  Once you start:  better flavor, ease of use, increased variety and significant savings will keep you coming back for more of your own healthful homemade convenience foods.
For more delicious and frugal mixes you can make yourself check out Homemade Mixes – Make It Yourself and Save available on Amazon Kindle.
Beverage Mixes
 
Other Beverages
Breakfast Foods
Baking
Sauces & Condiments
Dairy Products
Sandwich Spreads & Soups
Side Dishes
Main Dishes
Snacks
For even more homemade recipes for things you'd normally buy at the store, take a look at the Homemade Mixes Cookbook available on Amazon.
Homemade Mixes – Make It Yourself and Save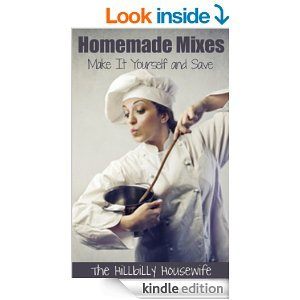 Making your own mix from scratch rather than buying it in the store not only saves you money but also saves you from all the additives and preservatives that are put in the foods we buy. The recipes include:
Apple Pie Spice Mix
Basic Muffin Mix
Brownie Mix
Caribbean Jerk Seasoning
Chocolate Chip Cookie Mix
Corn Bread Mix
Cream of Soup Mix
Fajita Seasoning
Fish Fry Coating Mix
Fruited Oatmeal Mix
Homemade Taco Seasoning Mix
Homemade Vanilla Chai Tea Mix
Disclosure: Some of the links below are affilate links, meaning, at no additional cost to you, I will earn a commission if you click through and make a purchase.