Quick And Easy Crockpot Recipes
I thought I'd share some quick and easy crockpot recipes with you. The term may be a little misleading though. While they don't necessarily cook very quickly (nothing in a crockpot does), they are fast and simple to put together. Then just leave the actual cooking to your slowcooker.
What I like about the recipes below is that I don't have to think too much about them and there aren't dozens of ingredients to hunt for to get the meal started. I was talking to my good friend Tracy yesterday and since I just finished my crockpot cooking guide, the topic of using a slowcooker came up. She mentioned that her biggest challenge is to plan ahead and actually get something cooking in this nifty little appliance. That's what got me thinking about these recipes. You don't have to do a lot of planning and shopping. You just add everything early in the day and cook it until it's time for dinner.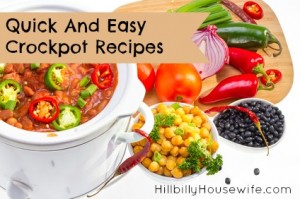 Crockpot Chicken
This is my favorite way to cook a whole chicken. Just add it to your crockpot, along with some water and a few chicken bullion cubes. Cook on low for about 8 to 10 hours or on high for about 6 hours or until the meat starts to fall off the bone. Take out the meat and shred.
Simple Beef Roast
This beef recipe is just as simple. Pick up whatever beef roast is on sale that week, add it to your crockpot along with some beef broth (water and bullion is fine as well) and a package of dry onion soup mix. Cooking times vary depending on the size of the roast but are similar to the chicken ones. You'll know it'd done when the roast falls appart.
Pinto Beans
When you're not in a rush, but don't want to babysit a pot of beans cooking on the stove, put the dry beans (no soaking needed) and plenty of water to cover them in your crockpot. If you'd like add a piece of ham or a few slices of bacon. Cook all day on low.
By the way, you can find more crockpot recipes here.
Disclosure: Some of the links below are affilate links, meaning, at no additional cost to you, I will earn a commission if you click through and make a purchase.