Puzzled About How Long To Cook A Whole Chicken In A Crockpot? Let's Clear This Up
You may be a bit confused about how long to cook a whole chicken in a crockpot. Well, you are not alone. You'll get ten different answers from ten different cooks. Then, when you actually gather recipes, it gets even more confusing.
The answer varies depending on a great many things. That's the reason for the muddled answers. When you start looking at recipes, you may get even more baffled. So, let's start with figuring out the variables you have to look at when choosing to cook a whole chicken in your slowcooker:
The Term Whole – This is not as strange as it seems. When one person refers to a whole chicken they could mean a chicken that is left whole, uncut. However, another person may mean an entire chicken – the "whole" chicken – even though it's in half, or even in pieces. You might say you are cooking a whole chicken when you cut the chicken in quarters but cook the "whole" thing. Confusing, right? Determine what term a person is using before you figure cooking time.
The Chicken Recipe – If you choose a crispy rotisserie chicken style of recipe, you will time your crockpot differently than if you have a chicken recipe loaded with lots of vegetables. A big pile of carrots and potatoes sitting around your chicken will cause a chicken to cook differently than if it is cooking in dry heat, rotisserie style.
The Preparation – Some people like to brown their chicken before putting it in the crockpot to give it a little extra color and flavor. This process will also shorten the cooking time. Then there's the question of stuffing. If you add stuffing the bird will need to cook longer because it's just more dense.
The Bird Size – If you have a big six pound chicken, you're going to cook it longer than if you have a little three pound chicken. That's just common sense. However, you also have to consider how much room you have in your crockpot. If your six pound bird is squeezed inside a five quart crockpot, your cooking time will have to be increased. There isn't enough room around the chicken to let air and heat circulate.
The Crockpot Design – Do you have a brand new crockpot with extra insulation wrapped around to keep the heat in the pot where it belongs? Or are you still using the old metal pot that sits on top of the burner plate. Can you start your meal on high, then turn it to low to finish cooking? Is your cover one of the new ones that fits tight and even locks in place?
You want to know how long to cook a whole chicken in a crockpot? It's still confusing, isn't it. Normally, if you find a recipe you like that calls for chicken breasts, add about an hour to your time if you're using a whole, uncut chicken. This will vary, too, depending on all the other factors mentioned. But don't fret. Just go ahead and experiment and soon you'll have a nice collection of your own favorite crockpot recipes!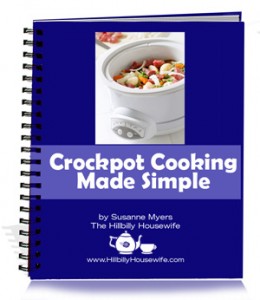 Are you ready to put your crockpot to good use?
Get all the information, recipes, and tips you need with my Crockpot Cooking Made Simple ebook.
Click on here and buy it today to start saving money and time with your next meal!
Disclosure: Some of the links below are affilate links, meaning, at no additional cost to you, I will earn a commission if you click through and make a purchase.