Pumpkin Muffins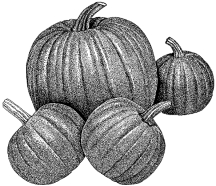 1 cup pumpkin puree (or canned pumpkin)
1/3 cup buttermilk or yogurt
1/3 cup melted margarine
1/2 cup white sugar
1/2 cup brown sugar
1 teaspoon vanilla
2 medium eggs
1/2 teaspoon salt
1 teaspoon cinnamon
1 teaspoon baking soda
2 cups whole wheat flour
Get out a big bowl. Scrape the pumpkin puree or canned pumpkin into the bowl. Add the buttermilk, margarine, sugars, vanilla, eggs, salt and cinnamon. Use your whisk to work everything together until it is well blended. Add the baking soda and flour. Mix again, stirring only until the flour is moistened. Be careful not to over beat, muffin batter should be lumpy. Spoon the batter into well oiled muffin cups. Bake at 350° for about 25 minutes. This recipe makes about 18 muffins. I serve these with cream cheese for breakfast, and with a little Vanilla Frosting in the lunch box. They make a nice holiday gift too.
If you buy pumpkin in large cans, you can divide it into cup size portions and freeze it until you need it again. This prevents waste, because you don't have to use the whole can up right away. I usually buy pumpkin in 28 ounce cans, because it is cheaper this way. Although sometimes the 16 ounce cans go on sale around the holidays.
Ready for another homemade bread recipe? Here's one for plain cornbread.
Disclosure: Some of the links below are affilate links, meaning, at no additional cost to you, I will earn a commission if you click through and make a purchase.