Pumpkin Streusel Muffin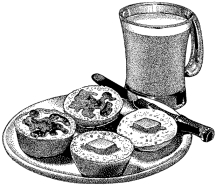 1/2 C canned pumpkin
1/2 C skim milk
2 eggs whites or enough egg substitute to equal 1 egg
2 C reduced fat baking mix
1/4 C sugar
1/2 tsp nutmeg
1/2 tsp cinnamon
1/2 tsp ginger
2 T sugar
1 T reduced fat baking mix
1/4 tsp cinnamon
2 tsp butter, cold
Preheat the oven to 400 degrees.
Spray a muffin tin with a non stick cooking spray.
In a large mixing bowl stir together the pumpkin, milk and egg until smooth.
In a separate mixing bowl sift together the 2 C baking mix and 1/4 C sugar.
Add in the cinnamon, ginger and nutmeg and blend well.
Pour the batter into each muffin cup.
In a small bowl mix together the 2 T sugar, 1 T of baking mix and the 1/4 tsp of cinnamon.
Cut in the butter until mixture becomes crumbly.
Sprinkle the mixture over the top of the muffin batter.
Bake 15 minutes or until a toothpick inserted comes out clean, be sure not to overcook.
Stirring the batter too long can make for hard muffins. Only stir long enough to moisten any dry ingredients. Lumps are just fine when it comes to muffin batter.
Here are some tips on how to freeze these muffins. It's a great way to make them ahead of time and then just reheat and server.
Ready to make some more freezer muffins? Try this apple spice muffin recipe next.
Disclosure: Some of the links below are affilate links, meaning, at no additional cost to you, I will earn a commission if you click through and make a purchase.