The Rewards Of Hardship, Cookies Ready In The Freezer, Frugal Gardening Resource – HBHW Newsletter
April 21st, 2010
Editorial
Tax season has come and gone.  Most households, mine included,  are struggling trying to make their incomes stretch far enough to feed, clothe, and shelter their family.  Even if the economy is said to be turning around, it will take some time for most of us to feel any relief.
With the growing season just beginning in our corner of the planet, my attentions have been focused primarily on planning and planting a successful, and frugal, garden this year.  I am encouraged by my friend Tawra Kellam, who is featured in our resource, "FRUGAL GARDENING" available at the  Hillbilly Housewife Club.
Gardening is a relaxing past time for many people.  But, this year, I plan to approach my garden like a General going to battle.  This garden is going to produce RESULTS!  In other words, the real estate my garden is taking up is going to pay me back.  I hope to, once again, enjoy the luxury of a nice ripe tomato without having to take out a second mortgage on the house.  Stay tuned…
In our inspirational quote and story this week you'll see a theme of hardship and the rewards and strengths that hardship can bring.
It's a simple concept that many people know to be true, but struggle against anyway.  Hard work and hard times bring some of our most valued rewards.  Consider raising a family – are there hardships involved?  Certainly.  Are the rewards worth the hardship?  Absolutely.
Please take a minute to reflect on this theme and give thanks for some of the difficult times in your life that have given way to some of your most wonderful blessings.
Those are my thoughts this week. As always, I welcome your comments and suggestions. Feel free to email me at susanne@hillbillyhousewife.com
Warm Regards,
Susanne – The Hillbilly Housewife
Inspirational Quote
The Rewards Of Hardship

"God educates men by casting them upon their own resources.  Man learns to swim by being tossed into life's maelstrom and left to make his way ashore.  No youth can learn to sail his life-craft in a lake sequestered and sheltered from all storms, where other vessels never come.  Skill comes through sailing one's craft amidst rocks and bars and opposing fleets, amidst storms and whirls and counter-currents.  Responsibility alone drives man to toil and brings out his best gifts."

~ Newell Dwight Hillis ~

Project or Sponsor

How To Get Out of Debt For Good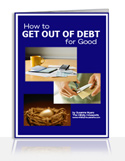 Today I thought I'd share one of the most popular resources from the HBHW Club with you. It's how to get out of debt for good and has a step by step action plan that will help you get out of any and all consumer debt faster than you thought possible.
You can get your hands on this powerful report two different ways. You can either order it right here for $9.95, or you can join the HBHW Club for $10 per month and get access to this report and others along with all the other club goodies as part of your membership.
To learn more about the report and find out how to order visit:
http://www.hillbillyhousewife.com/ebooks/debtfree.html
News From The HBHW Club
What? You haven't heard about the Hillbilly Housewife Club? It's a members only forum packed full of great information, resources, and friendly chit chat about the things we are all interested in – fun, frugal living. Come Join Us And See What All The Chatter Is About!

We have a very valuable resource available to our Club members that you won't want to miss.
How would you like to finally produce the kind of garden that you've only dreamed about before?  And, what if you could produce this garden without spending a fortune?
I don't have a green thumb, but I am determined to make my garden the best it can be – and do it  frugally!
Our FRUGAL GARDENING resource features an interview with my friend, gardening expert Tawra Kellam of LivingOnADime.com. This informative and fun resource explores the world of frugal gardening in simple detail so that even the novice gardener can get started on the right foot.
Frugal Gardening – An Interview With Tawra Kellam, is a resource you won't want to miss.  Whether you're a beginner or a seasoned gardener, you'll find plenty of information in this resource to give you at least a few "ah ha" moments.
The interview format of this resource is sort of an "over the fence" neighborly chat. You'll hear simple techniques for getting the most out of your garden, no matter how small your garden is or how many years you've been gardening.
Tawra not only brings years of  gardening experience to this resource, but she is educated in greenhouse management and landscape design. Tawra has down-to-earth suggestions for every garden size and type.
Simple suggestions such as "plant produce you like to eat" and  "plant produce that's expensive to buy" will have you smiling to yourself thinking; "Do people really plant things they don't like to eat?" and "Why wouldn't I save my garden space for expensive-to-buy foods?"  Yes, believe it or not, even seasoned gardeners fall into the trap of "This is the way we've always done it."
I'm sure you'll enjoy this no-nonsense gardening resource.  But, even though it's filled with simple ideas, there's plenty of detailed information to help you start planning your frugal garden, even if you've never gardened before.
Most gardening books today give you some very fine information, but I've found one thing missing – the frugal aspect.  This resource focuses on planting a garden that will pay you back for your efforts!  The focus is on FRUGAL – which makes sense if you're gardening to save money on vegetables!
You don't want to miss this informative resource. Join the HBHW Club and grab your FREE resource today!

As a HBHW newsletter subscriber, you can join for only $10 per month. Click on this link for all the details: http://www.hillbillyhousewifeclub.com/special.html
Not sure about joining the HBHW Club yet? To make joining us even easier, I'll let you try it out for just a dollar for the first 7 days.
How will you benefit from joining the HBHW Club with this offer? As an example, for just that one dollar you'll have 7 days of access to over 350 great frugal recipes that are tried and true, with a new recipe every day. You'll also have 7 days to ask your most puzzling frugal homemaking questions – and even get answers!
Join us now and enjoy 7 days of frugal fun. Click on the link here and come aboard! http://www.hillbillyhousewifeclub.com/special.html
Let's just take a peek at what's been going on at the HBHW Club forum.
Hillybilly Housewife Club is 1 year old! I can't believe it's been a year already! Thanks to our Club members, we have created a comfortable, fun, and informative place to share ideas, tips, and support for all we do in a day. Beyond the forum, we have created valuable resources, a mountain of recipes, and some very useful frugal living strategies. I hope you'll come join us as we celebrate our first great year together!
A few topics we've been discussing have to do with meal time and saving money.  Several of our members are trying to find healthy alternatives for meat at meal times.  We have shared a few meatless dinner ideas which include using beans, lentils, peanut butter, eggs, and other proteins.  It's a challenge to cook without meat if that's what you've been used to for years.  But, with just a few suggestions from our Club members, I know we can make delicious meatless meals at least several times a week.
Our members have also been discussing how we can stick to our diet and exercise programs.  It seems getting into a good HABIT of exercise and being accountable in writing about what we are eating are two good ways to stay on track.
How would you like to join the conversation?  As a Club member, you'll be able to share your opinions, frugal tips, and ideas on everything from what to do with leftover chocolate Easter bunnies to homeschooling.  Are you ready to join us at the HBHW Club?
Click the following  link and try The HBHW Club for only $1. We'd love to have you come join us! http://www.hillbillyhousewifeclub.com/special.html
Now that you've joined us at the HBHW Club, you'll want to be sure to take a stroll through the resources available free to Club members only. Popular resources include:
Pantry Cooking
Freezer/Pantry Challenge & Meal Planning
Setting Up A Family Budget
Simple Summer Cooking
Getting Out Of Debt For Good
Utility Bill Savings
Meal Planning Guide – Simple Step-by-Step Method
Frugal Family Summer Fun

Let me know what you think of the resources and if there are any topics we should explore further. As a Club member, your opinion is highly valued because it's YOUR Club!
Join The Hillbilly Housewife Club for Just a Dollar
I'd like to share one of the recipes that was submitted to the HBHW Club this past week.
Easiest 6 Layer Magic Bars Ever
1/2 cup butter or margarine
1  1/2 cup graham cracker crumbs
1 can sweetened condensed milk
1 (6 oz) pkg. chocolate chips
1  1/2 cups flaked coconut
1 cup chopped nuts (your choice, but peanuts are good)
Preheat oven to 350 degrees.
Get out a 9 x 13 pan.  Put butter in and put in your preheated oven.  When the butter melts, remove the pan.  Sprinkle the graham cracker crumbs over the butter evenly.  Then pour the sweetened condensed milk evenly over the crumbs.  Sprinkle the chips on next, then the coconut, and finally the nuts.  Press down gently with your hands.
Return the pan to the oven and bake at 350 degrees for 25 to 30 minutes or until you see the edges just beginning to brown.  Remove and let cool before cutting into bars.
And here are a few more recipes that have recently been added to the member area.
Fancy Frosted Pineapple Jello Salad
Tuna Bake With Biscuit Topping
Savory Carrot Salad
Homemade Butterscotch Topping
All in all, we have over 375 new recipes in the member area already.
One of my favorite parts of the HBHW Club is the Member Forum. Here are just a few of the more recent posts.
Member Forum Posts
Why don't you join us so you can get in on the conversation. I look forward to chatting with you in the member area.
http://www.hillbillyhousewifeclub.com/special.html
Featured Article
It may seem a bit early to discuss holiday cookie baking, but having a freezer full of cookies, baked or unbaked, is a good idea for any time of the year.
Have you ever been caught by surprise with a last-minute request for treats?  Perhaps your youngster forgot to mention that the school is hosting a cookie exchange – tomorrow!  Maybe you find yourself the fill-in troop leader this week.
These little last-minute events can happen to the most organized person.  A freezer full of cookies can take the frustration away and make everything turn out perfectly as planned.  This article gives you the information you need to prepare and store delicious cookies for your freezer, as well as several of our favorite cookie recipes.
Click the link below and get started filling your freezer with great cookie treats ready in minutes – for the holidays or any day!
Freezer Cookie Recipes And Tips For Freezing Cookies and Cookie Dough

Healthy Hillbilly Housewife
Here's what's new on the healthy hillbilly housewife section. You can also go straight to http://www.healthy.hillbillyhousewife.com
[RSSImport display="5″ feedurl="http://healthy.hillbillyhousewife.com/feed" displaydescriptions=true end_item="
" start_item=""]
Frugal Tips
[RSSImport display="3″ feedurl="http://www.hillbillyhousewife.com/category/frugal-tips/feed" displaydescriptions=true end_item="
" start_item=""]
Do you have a tip to share? Fill out the submit a frugal tip form and I'll be glad to add it to the site and share your tip in an upcoming edition of the newsletter.
Recipes
Here are some of the most recent recipes that have been added to the HBHW site. Enjoy!
[RSSImport display="5″ feedurl="http://www.hillbillyhousewife.com/category/recipes/feed" displaydescriptions=true end_item="
" start_item=""]
Do you have a recipe you would like to share? Click here to send it to me and I'll be happy to add it to the website.
I'm Looking For:
This section is all about you. If you are looking for a particular recipe or a tip on how to do something, submit it here and I will post it in an upcoming newsletter. I'll give you my input and other readers of the newsletter will have the opportunity to share their recipes and tips as well. So take a moment to post your questions and of course if you have a tip or idea for any question posted in this section feel free to leave a comment under the appropriate post.
I'm Looking For Requests
[RSSImport display="20″ feedurl="http://www.hillbillyhousewife.com/category/newsletter/recipe-requests/feed" displaydescriptions=true end_item="
" start_item=""]
I'm Looking For Responses
Below you will find some of the recent responses to the "I'm Looking For" Requests. You may also want to go directly to this section and browse through all the recent submissions and replies. To do so, click on "I'm Looking for" here, and start looking through them.
[RSSImport display="20″ feedurl="http://www.hillbillyhousewife.com/comments/feed?cat=recipe-requests&withcomments=1″ displaydescriptions=true end_item="
" start_item=""]
Inspirational Story
The Old Mule
~author unknown~
Once upon a time a farmer owned an old mule who tripped and fell into the farmer's well.
The farmer heard the mule braying and was unable to figure out how to bring up the old animal. It grieved him that he could not pull the animal out. He'd been a good worker around the farm.
Although the farmer sympathized with the mule, he called his neighbors together and told them what had happened. He had them help haul dirt to bury the old mule in the well and quietly put him out of his misery.
At first, the old mule was puzzled, but as the farmer and his neighbors continued shoveling and the dirt hit his back, he had a thought: he ought to shake off the dirt and step up. And he did just that.
"Shake it off and step up…shake it off and step up…shake it off and step up." Even though he took painful blows of dirt and fought panic, he just kept right on shaking it off and stepping up!
It wasn't long before the old mule stepped up and over the lip of that well. What could have buried him actually blessed him…all because of the manner in which he handled his adversity.

Final Thought
That's it for this edition of the Hillbilly Housewife Newsletter. I hope you've had as much fun reading it as I had creating it for you. I also hope that you have found the information helpful and useful. And by all means feel free to forward the newsletter to family and friends or even better, encourage them to subscribe to it.
Do you have a question, a tip, a recipe or a story you'd like to share with us? Email it to me and I'll include it in a future issue. Can't wait to see what you have to say.
Warm Wishes,
Susanne – The Hillbilly Housewife
Disclosure: Some of the links below are affilate links, meaning, at no additional cost to you, I will earn a commission if you click through and make a purchase.