"Imagine! There IS A Way To Finally Get Rid Off All That Extra Money You Owe On Your Credit Card"
Let's face it - consumer debt has been going up and up for the past decades and chances are you have accumulated quite a bit yourself and are now wondering hot to get out of this vicious cycle of interest rate and new debt that never seems to dwindle down much no matter how hard you try.

I've been there and was able to get out of debt (with nothing more than a mortgage remaining) in about a year. In the report below I'll share the exact strategy my husband and I used to pay off all our consumer debt in record time - and how you can do the same.

The Solution - A Simple But Foolproof Strategy To Finally Get You Out of All Consumer Debt For Good!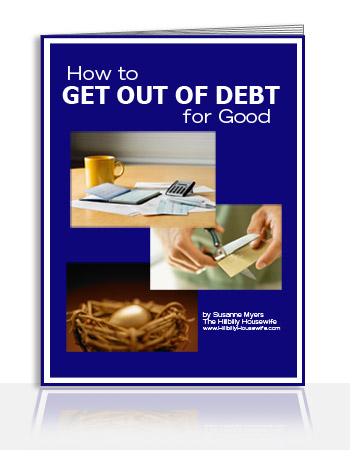 Here Are Just A Few Of The Things
You'll Discover Inside And Put To Work Right Away
How to determine where you stand and how to face all the debt that has accumulated over the past years.
We'll discuss the two main strategies you can use to tackle your pile of debt most effectively and how to decide which one will work best for you.
What the Snowball Principle is and how you can use it to pay off debt faster than you thought possible.
How to get your own "Snow Ball" started.
A whole bunch of ideas for things you can do to generate extra cash to pay off your debt even faster.

It's time to say "This Will Be The Year When I finally Get Out Of Debt" and start working on this almost fool-proof strategy. This sensational resource "How To Get Out Of Debt For Good" is available to you as a downloadable pdf ebook directly accessible from the Internet.
Don't Wait until you get another credit card statement in the bill or even worse the debt collectors are starting to call. Take control by taking action right now, today!

Yes Susanne, I'm ready to finally get ouf of debt for good
...
Click the Link Below to Order How To Get Out of Debt For Good Ebook for $9.95

Important Note:
This is A Secure Transaction. Nobody Online Can See Your Data So You Can Place your Order With Confidence.
Don't wait any longer! You can be downloading and learning from this incredible information within just a few minutes . . . and using it to start making your own meal plans - or use one of mine!
Warmly,

Susanne Myers
P.P.S. Remember, you'll get instant access to this ebook so that you can start on digging yourself back out of debt right away. There are no extra costs or wait time for shipping. What are you waiting for? Click here to order your copy now!