Courage And Determination, Frugal Living Team Work, Frugal Gardening Resource – HBHW Newsletter
April 14th,  2010
Editorial
Two things happen at the same time around my house  – gardening and taxes.  Yes, it's ironic that while I'm sitting down planning out my garden space I'm also sitting down and finalizing my income tax return.  Frugality is on my mind more than ever around April 15th.
Tax season and growing season coming around the same time each year may just be a coincidence, but it sure has me calculating my fingers to the bone!  That's why the very idea of FRUGAL GARDENING is so important.
I have had my day of just plopping seeds and plants into the dirt and letting the chips fall where they may.  The results?  A lot of wasted seeds and plants… and time.
I have also had my day of buying many of the "gardening gadgets" during my gardening days.  The results?  A lot of wasted money.
So, with the reminder from our income tax return that every penny must be squeezed tightly again this year, I'm taking my garden and myself to task.  I am following the advice of my friend Tawra Kellam in our new FRUGAL GARDENING resource in the Hillbilly Housewife Club and I am planning and planting my garden wisely – and frugally.  This year, my garden's going to earn its keep.  Stay tuned to see how this turns out.
In our inspirational quote and story this week you'll see a theme of courage and determination.  These two qualities in a person often go hand in hand.  When we are determined to achieve something, we often face obstacles that call upon our courage.  And, when we call upon our courage to pull us through a difficult situation, we also are often filled with a fierce determination to see our task completed.
Dig deep within yourself today to do one courageous thing.  Find the determination to finish that task and achieve at least one goal.  At the end of the day, you'll then be able to lay your head down and rest very, very well.
Those are my thoughts this week.  As always, I welcome your comments and suggestions. Feel free to email me at susanne@hillbillyhousewife.com
Warm Regards,
Susanne – The Hillbilly Housewife
Inspirational Quote
Courage And Achievement

"Come to the edge."
"We can't. We're afraid."
"Come to the edge."
"We can't. We will fall!"
"Come to the edge."
And they came.
And he pushed them.
And they flew.
Project or Sponsor

How To Get Out of Debt For Good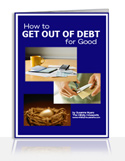 Today I thought I'd share one of the most popular resources from the HBHW Club with you. It's how to get out of debt for good and has a step by step action plan that will help you get out of any and all consumer debt faster than you thought possible.
You can get your hands on this powerful report two different ways. You can either order it right here for $9.95, or you can join the HBHW Club for $10  per month and get access to this report and others along with all the other club goodies as part of your membership.
To learn more about the report and find out how to order visit:
http://www.hillbillyhousewife.com/ebooks/debtfree.html
News From The HBHW Club
What? You haven't heard about the Hillbilly Housewife Club? It's a members only forum packed full of great information, resources, and friendly chit chat about the things we are all interested in – fun, frugal living. Come Join Us And See What All The Chatter Is About!

We have a brand new resource available to our Club members. Both our "Pantry – Freezer Challenge/ Meal Planning" resource and our "Pantry Cooking" resource were so popular, we've decided to give you yet another way to stock your pantry, refrigerator, and freezer.  How about with your very own produce from your frugal garden!
This resource features an interview with my friend, frugal gardening expert Tawra Kellam of LivingOnADime.com.  This informative and fun resource explores the world of gardening… FRUGAL GARDENING to be precise.
The new resource, Frugal Gardening – An Interview With Tawra Kellam, is one you won't want to miss.  If you've ever considered starting a garden, or if you are even an experienced gardener, this interview is for you.  It's packed with information to get started on the right foot, and to keep your garden producing throughout the growing season.
The interview format of this new resource is informal and filled with "over the fence" neighborly tips.  You'll hear simple techniques for getting the most out of your garden, no matter how small your garden is or how many years you've been gardening.
Tawra not only brings years and years of tried-and-true gardening expertise to this resource, but she is also schooled in greenhouse management and landscape design.  She has down-to-earth knowledge and offers suggestions for every garden size and type.
Even experienced gardeners will have a few "ah ha" moments.  My favorites are "plant produce you like to eat" – people do sometimes plant produce that they will not eat –  and "plant produce that's expensive to buy" – if potatoes are dirt cheap save the garden space for herbs and other expensive produce.
This tiny glimpse into the new FRUGAL GARDENING resource should give you an idea of how down-to-earth this resource is.  But, don't let those  simple tips fool you!  This resource is also filled with great detail about how and why we should all be planting our own frugal garden – something that is missing from most gardening books available.  The focus is on FRUGAL – without which gardening doesn't make much sense in most households today.
You don't want to miss this informative resource. Join the HBHW Club and grab your FREE resource today!

As a HBHW newsletter subscriber, you can join for only $10 per month. Click on this link for all the details: http://www.hillbillyhousewifeclub.com/special.html
Not sure about joining the HBHW Club yet? To make joining us even easier, I'll let you try it out for just a dollar for the first 7 days.
How will you benefit from joining the HBHW Club with this offer? As an example, for just that one dollar you'll have 7 days of access to over 350 great frugal recipes that are tried and true, with a new recipe every day. You'll also have 7 days to ask your most puzzling frugal homemaking questions – and even get answers!
Join us now and enjoy 7 days of frugal fun. Click on the link here and come aboard! http://www.hillbillyhousewifeclub.com/special.html
Let's just take a peek at what's been going on at the HBHW Club forum.
Happy Birthday Hillybilly Housewife Club! I can't believe it's been a year already!  Thanks to our Club members, we have created a comfortable, fun, and informative place to share ideas, tips, and support for all we do in a day.  Beyond the forum, we have created valuable resources, a mountain of recipes, and some very useful frugal living strategies.  I hope you'll come join us as we celebrate our first great year together!
One of the funny topics we've covered is what to do with all those half-eaten chocolate Easter bunnies!  If you've got a couple sitting around missing the ears, well, you are not alone.  Very fun, but also informative, topic indeed!
On somewhat of a more troubling topic, we have been discussing home schooling issues.  All home school programs are not alike and should not be considered appropriate for every family.  I know we all would like to expand on this topic and get more feedback from everyone.
As a Club member, you'll be able to join us and share your opinions and throw out some of your own frugal tips and ideas. Are you ready to join us at the HBHW Club?
Click the link here and try The HBHW Club for only $1. We'd love to have you come join us! http://www.hillbillyhousewifeclub.com/special.html
Now that you've joined us at the HBHW Club, you'll want to be sure to take a stroll through the resources available free to Club members only. Popular resources include:
Pantry Cooking
Freezer/Pantry Challenge & Meal Planning
Setting Up A Family Budget
Simple Summer Cooking
Getting Out Of Debt For Good
Let me know what you think of the resources and if there are any topics we should explore further. As a Club member, your opinion is highly valued because it's YOUR Club!
Join The Hillbilly Housewife Club for Just a Dollar
I'd like to share one of the recipes that was submitted to the HBHW Club this past week.
No-Bake Peanut Butter Oatmeal Cookies

1/2 cup butter
2 Tblsp. cocoa
1/2 cup milk
2 cups sugar
1/2 cup peanut butter
3 cups old fashioned rolled oats (Quaker Oats)
In a large saucepan, mix the first 4 ingredients.  Bring to a boil over medium heat, stirring often, then remove from heat.
Add the peanut butter and oatmeal and stir together until completely incorporated.
Take a teaspoonful of  cookie dough and drop onto a cookie sheet lined with parchment paper or waxed paper.  Put in a cool area, but not the refrigerator.
And here are a few more recipes that have recently been added to the member area.
1 2 3 Cheesecake

Double Sweet BBQ Beans

Granny Smith's Cabbage

1000 Island Dressing
All in all, we have over 375 new recipes in the member area already.
One of my favorite part of the HBHW Club is the Member Forum. Here are just a few of the most recent posts.
Member Forum Posts
Why don't you join us so you can get in on the conversation.  I look forward to chatting with you in the member area.
http://www.hillbillyhousewifeclub.com/special.html
Featured Article
It takes more than Mom to get a household financially stable.  There are reasons why even the best frugal budget sometimes fails.  If the whole family isn't on board, frugal living will be very difficult at best.
Outside of getting your family on the "frugal train" you'll need to gather support in your community of friends, as well.  Don't reinvent the wheel!  There are many groups of like-minded frugal living people who are willing, no, anxious, to share their expertise.
Click the link below to learn how to be successful with your frugal living plan:
Healthy Hillbilly Housewife
Here's what's new on the healthy hillbilly housewife section. You can also go straight to http://www.healthy.hillbillyhousewife.com
[RSSImport display="5″ feedurl="http://healthy.hillbillyhousewife.com/feed" displaydescriptions=true end_item="
" start_item=""]
Frugal Tips
[RSSImport display="3″ feedurl="http://www.hillbillyhousewife.com/category/frugal-tips/feed" displaydescriptions=true end_item="
" start_item=""]
Do you have a tip to share? Fill out the submit a frugal tip form and I'll be glad to add it to the site and share your tip in an upcoming edition of the newsletter.
Recipes
Here are some of the most recent recipes that have been added to the HBHW site. Enjoy!
[RSSImport display="5″ feedurl="http://www.hillbillyhousewife.com/category/recipes/feed" displaydescriptions=true end_item="
" start_item=""]
Do you have a recipe you would like to share? Click here to send it to me and I'll be happy to add it to the website.
I'm Looking For:
This section is all about you. If you are looking for a particular recipe or a tip on how to do something, submit it here and I will post it in an upcoming newsletter. I'll give you my input and other readers of the newsletter will have the opportunity to share their recipes and tips as well. So take a moment to post your questions and of course if you have a tip or idea for any question posted in this section feel free to leave a comment under the appropriate post.
I'm Looking For Requests
[RSSImport display="20″ feedurl="http://www.hillbillyhousewife.com/category/newsletter/recipe-requests/feed" displaydescriptions=true end_item="
" start_item=""]
I'm Looking For Responses
Below you will find some of the recent responses to the "I'm Looking For" Requests. You may also want to go directly to this section and browse through all the recent submissions and replies. To do so, click on "I'm Looking for" here, and start looking through them.
[RSSImport display="20″ feedurl="http://www.hillbillyhousewife.com/comments/feed?cat=recipe-requests&withcomments=1″ displaydescriptions=true end_item="
" start_item=""]
Inspirational Story
A Determined Spirit

Author Unknown
Once upon a time, a small bird named Tasoo lived in a vast jungle.
One hot summer day, a terrible wildfire erupted and the flames devoured many trees and animals living in the jungle. Other birds flew high into the sky and far away to safety, but Tasoo couldn't bear to leave her precious jungle home to burn.
Day and night, she flew with all her might back and forth to the river, filling her tiny beak with water to drop on the raging fires.
Tasoo's rare heart of courage and unshakable determination moved the heavenly gods to shed tears, and a great rain poured down upon the jungle, extinguishing the flames.
And so it is that even the smallest actions of a determined spirit can change the world.
Final Thought
That's it for this edition of the Hillbilly Housewife Newsletter. I hope you've had as much fun reading it as I had creating it for you. I also hope that you have found the information helpful and useful. And by all means feel free to forward the newsletter to family and friends or even better, encourage them to subscribe to it.
Do you have a question, a tip, a recipe or a story you'd like to share with us? Email it to me and I'll include it in a future issue. Can't wait to see what you have to say.
Warm Wishes,
Susanne – The Hillbilly Housewife
Disclosure: Some of the links below are affilate links, meaning, at no additional cost to you, I will earn a commission if you click through and make a purchase.