Diet Friendly Crockpot Cooking and Seize The Moment – HBHW Newsletter
September 8th, 2010
Editorial

Hello again and welcome to another edition of the Hillbilly Housewife Newsletter.
Labor Day here in the USA is often the last chance families can take a nice trip before really settling into their fall routine.  It's a three day weekend that often has us frantically trying to squeeze in an outdoor barbecue, picnic, boat ride, and anything that reminds us of the last few months of summer.
We ended up going camping in Huntington State Park with family and friends. Though it was hot and I'm still covered in mosquito bites, it was a fun trip and we made lots of great memories. By sharing a campsite with friends and cooking almost all meals at the campsite, it ended up being a very frugal trip with gas cost being our highest expense.
The article I'm sharing with you this week is about cooking delicious meals with your crockpot even if you are on a restricted diet. Be sure to scroll down and click on the link for this informative article.
The inspirational quote and story I've chosen this week are about seizing your moments and making the most of them.  I hope you'll take one of your moments today to read and reflect on this week's quote and story.
Those are my thoughts this week. As always, I welcome your comments and suggestions. Feel free to email me at susanne@hillbillyhousewife.com
Warm Regards,
Susanne – The Hillbilly Housewife
Inspirational Quote
Why always "not yet"?  Do flowers in spring say "not yet"?
~Norman Douglas~
Sponsor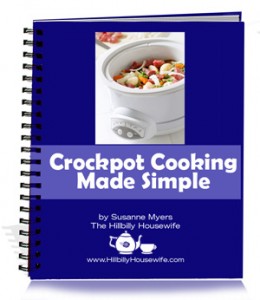 I Highly Recommend  Crockpot Cooking Made Simple
Want to learn more about how to use your crockpot to feed your hungry family easily, while saving money and time?
Get all the information, recipes, and tips you need with my Crockpot Cooking Made Simple ebook. I've included tips for buying and caring for your crockpot as well as some simple instructions that will allow you to convert regular recipes into slowcooker dishes.
You'll also find over 500 recipes for anything from main dishes to soups and stews and even dessert and drink recipes for the crockpot.
Click on here and buy it today to start saving money and time with your next meal!
http://www.hillbillyhousewife.com/ebooks/crockpotcooking.htm
News From The HBHW Club
If you haven't heard about the Hillbilly Housewife Club, it's a members only forum packed full of great information, resources, and friendly chit chat about the things we are all interested in – fun, frugal living. Come Join Us And See What All The Chatter Is About!

I look forward to chatting with you in the member area. Click the following link and try the HBHW Club for only $1.
http://www.hillbillyhousewifeclub.com/special.html
Our friends at the Club have been discussing everything from gluten free recipes to homemade Christmas gifts.  Along with the discussions, we've been sharing recipes. Here is a recipe I posted at the Club that I'd like to share with you:
Savory Slow-Roasted Chicken

1 whole large roasting chicken
salt and pepper to taste
basting sauce:
1 stick butter
1 lemon, squeezed and zested
1 tsp. Worcestershire sauce
1/2 tsp. yellow mustard
1/2 tsp. vinegar
dash Tabasco (or other hot sauce)
Preheat oven to 275 degrees F.
In sauce pan, combine all basting sauce ingredients, stir well, and simmer over low heat for 20 minutes, stirring often.
Wash chicken and pat dry.  Rub inside and out with salt and black pepper.  Place on rack in roasting pan.  Take baster and squirt all basting sauce over entire chicken, inside and out.  Cover chicken with roasting pan cover or foil.
Put in 275 degree oven for 30 minutes, removing cover and basting twice.
After 30 minute cooking time, remove cover or foil and cook uncovered for 2 1/2 to 3 hours (depending on size of bird) at 275 degrees, basting every 30 minutes during this cooking time.
Remove from oven and let stand 5 minutes before carving.
This is a meal that you need to be actively involved in.  You can't just set the oven and walk away.  The basting is what makes the chicken taste so wonderful.  Plan to cook this meal when you're busy in the kitchen or house anyway.
Listed here is a sampling of recent recipes added, making a total of more than 400 recipes currently available to our Club members.
Quick Skillet Chicken & Vegetable Meal
Herbed Corn & Ground Beef Casserole
Ham & Double Cheese Pie
Classic Cheddar Ham Quiche
We welcome recipe submissions from our friends at the Club and are always happy to see what's cooking in your kitchen. Our aim is to have six recipes posted each week. That's a lot of recipes!
Featured Article
Oftentimes when people go on special diets they set aside their trusted friend the crockpot.  The good news is you don't usually have to.  There are many recipes out there that use ingredients that will fit a low-glycemic diet, for instance.  (Think South Beach).  Please click on the link below and give this week's featured article a read:
Crockpot Cooking on a Low Glycemic Diet
Healthy Hillbilly Housewife
Here's what's new on the healthy hillbilly housewife section. You can also go straight to http://www.healthy.hillbillyhousewife.com
[RSSImport display="5″ feedurl="http://healthy.hillbillyhousewife.com/feed" displaydescriptions=true end_item="
" start_item=""]
Frugal Tips
[RSSImport display="3″ feedurl="http://www.hillbillyhousewife.com/category/frugal-tips/feed" displaydescriptions=true end_item="
" start_item=""]
Do you have a tip to share? Fill out the submit a frugal tip form and I'll be glad to add it to the site and share your tip in an upcoming edition of the newsletter.
Recipes
Here are some of the most recent recipes that have been added to the HBHW site. Enjoy!
[RSSImport display="5″ feedurl="http://www.hillbillyhousewife.com/category/recipes/feed" displaydescriptions=true end_item="
" start_item=""]
Do you have a recipe you would like to share? Click here to send it to me and I'll be happy to add it to the website.
I'm Looking For:
This section is all about you. If you are looking for a particular recipe or a tip on how to do something, submit it here and I will post it in an upcoming newsletter. I'll give you my input and other readers of the newsletter will have the opportunity to share their recipes and tips as well. So take a moment to post your questions and of course if you have a tip or idea for any question posted in this section feel free to leave a comment under the appropriate post.
I'm Looking For Requests
[RSSImport display="20″ feedurl="http://www.hillbillyhousewife.com/category/newsletter/recipe-requests/feed" displaydescriptions=true end_item="
" start_item=""]
I'm Looking For Responses
Below you will find some of the recent responses to the "I'm Looking For" Requests. You may also want to go directly to this section and browse through all the recent submissions and replies. To do so, click on "I'm Looking for" here, and start looking through them.
[RSSImport display="20″ feedurl="http://www.hillbillyhousewife.com/comments/feed?cat=recipe-requests&withcomments=1″ displaydescriptions=true end_item="
" start_item=""]
Inspirational Story
Finding Pennies – Losing Living
~author unknown~
There was a small boy who when walking down the street one day found a bright copper penny. He was so excited that he found money and it didn't cost him anything. This experience led him to spend the rest of his days walking with his head down, eyes wide open, looking for treasure.
During his lifetime he found 296 pennies, 48 nickels, 19 dimes, 16 quarters, 2 half dollars and one crinkled dollar bill. For a total of $13.96.
He got money for nothing. Except that he missed the breathless beauty of 31,369 sunsets, the colorful splendor of 157 rainbows, the fiery beauty of hundreds of maples nipped by autumn's frost. He never saw white clouds drifting across blue skies, shifting into various wondrous formations. Birds flying, sun shining, and the smiles of a thousand passing people are not a part of his memory.
Who do you know that is living like this; head is bent down burdened with trivial things afraid of pain and criticism and fear of things that never happen hoping to find that copper penny…for nothing.
Final Thought
That's it for this edition of the Hillbilly Housewife Newsletter. I hope you've had as much fun reading it as I had creating it for you. I also hope that you have found the information helpful and useful. And by all means feel free to forward the newsletter to family and friends or even better, encourage them to subscribe to it.
Do you have a question, a tip, a recipe or a story you'd like to share with us? Email it to me and I'll include it in a future issue. Can't wait to see what you have to say.
Warm Wishes,
Susanne – The Hillbilly Housewife
Disclosure: Some of the links below are affilate links, meaning, at no additional cost to you, I will earn a commission if you click through and make a purchase.