Beauty Within & Freezing Seasonal Fruit- HBHW Newsletter
June 2nd, 2010
Editorial

In the United States, we take the last Monday of May to honor our service men and women who served and sacrificed for our freedom.  I'll take this opportunity to say Thank You to all the fine military personnel and their families who visit with us here at The Hillbilly Housewife.
Memorial Day weekend also marks the "beginning of summer" for most families.  It's the first opportunity to have a few days together during (hopefully!) warm weather.  Kids are just now getting out of school in some areas;  in other areas it's right around the corner.  We're happily filling our tummies with fresh fruits and vegetables and we're firing up the grill.  Some of us are even getting the kiddie pools ready!
I've featured two articles in today's newsletter.  Blueberries and apricots are quite abundant in many areas and I know several homemakers who are anxious to gather as many as possible during this short season.  I say, go ahead and stock up!  You'll be happy when you are craving the taste of fruit in the middle of the winter and your freezer is filled with blueberries and apricots ready to enjoy.  Please be sure to read the articles and stock your freezer before the season is over.
I hope our inspirational quote and story this week will put the beauty of a summer day into perspective.  Don't get me wrong – I love waking up to a gorgeous sunny day with a soft breeze and birds singing.  But, I also know that the glare of a bright summer day doesn't always prove to be the prettiest day.  Sometimes the beauty of a day, or person, is just beyond those dark skies.
Those are my thoughts this week. As always, I welcome your comments and suggestions. Feel free to email me at susanne@hillbillyhousewife.com
Warm Regards,
Susanne – The Hillbilly Housewife
Inspirational Quote
All seasons are beautiful for the person who carries happiness within.
~Horace Friess~
News From The HBHW Club
What? You haven't heard about the Hillbilly Housewife Club? It's a members only forum packed full of great information, resources, and friendly chit chat about the things we are all interested in – fun, frugal living. Come Join Us And See What All The Chatter Is About!

You don't want to miss this or any of our informative and valuable resources including meal planning, gardening, working from home, saving on utilities, creating a family budget and a step-by-step plan for getting out of debt. Join the HBHW Club and grab your FREE resource today!

As a special to you, the HBHW newsletter subscriber, you can join for only $10 per month. Click on this link for all the details: http://www.hillbillyhousewifeclub.com/special.html
Still not sure about joining the HBHW Club? How about if I make it real easy. I'll let you try it out for just a dollar for the first 7 days.
How will you benefit from joining the HBHW Club with this offer?
For just one dollar you'll have 7 days of access to over 400 great frugal recipes that are tried and true, with a new recipe every day.
For just one dollar you'll have 7 days to ask your most puzzling frugal homemaking questions – and even get answers!
Join us now and enjoy 7 days of frugal fun. Click on the link here and come aboard! http://www.hillbillyhousewifeclub.com/special.html
Now, let's just take a peek at what's been going on at the HBHW Club Forum.
Because We Have An Abundance Of  Blueberries And Apricots,  I made sure I got some resources together for our Club members.  I put together a couple of articles about how to preserve these bumper crops by freezing them.  I decided the articles should be shared with you as well, so they are featured here in the newsletter.  Our friends at the Club didn't waste any time chiming in on this topic.  It seems everyone wants a freezer full of fruit when winter comes around!
Replacing Expensive Body Washes With Shampoo was suggested by one of our Club members.  This was one of those "ah ha" moments for many of our friends.  You know how expensive body washes and gels are – well shampoos work just fine and at a fraction of the cost.  And, with teenagers in the house who love to take long showers and use lots and lots of bubbly stuff, shampoo is the perfect frugal answer.  Save your fancy body wash bottles and just pour the shampoo right in there.  No one will be the wiser and they'll still feel and smell all pretty!
Safety While Out Walking was brought up by one of our friends at the Club.  It's important to keep in mind not only getting out there and walking as often as possible, but being aware of our surroundings and being prepared, as well.  It was suggested that we be sure to bring a cell phone when we're out walking;  not to talk but for emergencies. After all, we need some time in silence or listening to music – unplugged from others.  But the safety factor does make it preferable to have your cell phone on you.  Another friend at the Club walks with her dog so she will be made aware of any changes around her.
Exercise and Dieting Sabotage is another topic that was brought up at the Club.  When someone in your house is NOT exercising or watching their diet, how does that affect you?  Some of our friends at the Club were anxious about trying to keep on track with their healthy fitness program while watching those around them sit and snack.  Fortunately, one of our friends was pleasantly surprised by a visit from a family member who announced she's now on a strict diet!  No matter what others are doing around you, please stay focused on your own health.  Nobody's health is more important than yours because you can't be a help to anyone if you are sick.
Healthy Eating In The Summer was brought up by one of our Club members who would prefer not to stand over a hot stove all day.  She's looking for suggestions for ways to cook big meals for a hungry family without heating up the kitchen and without the standard "meat on the grill" meal.  You might say just throw together salads, but with a growing teenage son at home, she needs FOOD!  We're going to put our heads together and come up with hot-weather meals that are filling but that won't heat up the kitchen.
A Newbie Gardener Takes Her First Steps and plants tomatoes and jalapenos! Even though her husband says she could "kill dirt" we know that she'll be a success because she has her friends here at the Club to cheer her on.  And, hey, we've all killed our share of plants… live and learn is what it's all about!  We sure hope she gets to slice a few tomatoes and jalapenos this year.
Along with healthy and well fed families, we are discussing topics that include frugal tips for cleaning and cooking, as well as homesteading and gardening.  If something has to do with keeping our homes and families happy, we'll discuss it!
How would you like to join the conversation? As a Club member, you'll be able to share your opinions, frugal tips, and ideas on topics most important to your life.
Why don't you join us so you can get in on the conversation. I look forward to chatting with you in the member area.
Click the following link and try The HBHW Club for only $1. We'd love to have you come join us! http://www.hillbillyhousewifeclub.com/special.html
When you join us at the HBHW Club, you'll want to be sure to take a stroll through the resources available free to Club members only. Popular resources include:
Frugal Gardening
Simple Summer Cooking
Frugal Family Summer Fun
Pantry Cooking
Freezer/Pantry Challenge & Meal Planning
Cleaning With Vinegar And Baking Soda
Setting Up A Family Budget
Getting Out Of Debt For Good
Utility Bill Savings
Meal Planning Guide – Simple Step-by-Step Method
Let me know what you think of the resources and if there are any topics we should explore further. As a Club member, your opinion is highly valued because it's YOUR Club!
Join The Hillbilly Housewife Club for Just a Dollar
I'd like to share one of the recipes that was posted on the HBHW Club this past week.
Eggplant & Cheese Patty Cakes

1 medium eggplant, washed and diced
1  1/4 cup cracker or fine bread crumbs
1 cup sharp Cheddar cheese, shredded fine
2 eggs, beaten
1 small onion, chopped fine
1/2 tsp. salt
1/8 tsp. black pepper
1/8 tsp. celery salt
2 Tblsp. olive oil
Put the eggplant in a sauce pan, pour enough water in to come up half way, bring water up to a boil, then turn down to a simmer and cook until fork tender.  Drain through a colander.  Take a potato masher and mash the eggplant in the colander, pressing all the water out.
Put the cooked and mashed eggplant in a big bowl with the rest of the ingredients.  Mix together well.  Then form into small patties.  Don't make them too big.
Heat oil in a large skillet (the oil should only be about 1/8 inch deep) to medium hot.  Put patties in hot oil and cook until brown on both sides.  Remove to drain on a paper towel on a cooling rack.
Salt again to taste and serve alongside a mixed green salad.
Listed here is a sampling of recent recipes added, making a total of more than 400 recipes currently available to our Club members.
Strawberry Glazed Chicken
Whole Wheat Maple Syrup Bread
Ready-Set-Go Rolled Cookies
Creamy Vinaigrette
We welcome recipe submissions from our friends at the Club and are always happy to see what's cooking in your kitchen. Our aim is to have six recipes posted each week. That's a lot of recipes!
Featured Articles
Summer weather brings summer fruit.  Whether you are fortunate enough to have fruit trees or farms where you can pick your own, or you have markets where you can now buy fruit, you'll want to buy as many as you can and preserve them for future use.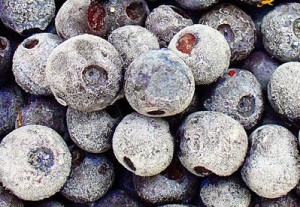 Even if you've never preserved fruit before (and the thought has you a bit nervous) you'll be an expert once you read these articles.  The simplest method of preserving fruit is freezing it.  But, there are a few things you'll want to know before you just throw them in your freezer.
Click the links below to learn the proper way to freeze your bumper crop of blueberries and apricots:
Healthy Hillbilly Housewife
Here's what's new on the healthy hillbilly housewife section. You can also go straight to http://www.healthy.hillbillyhousewife.com
[RSSImport display="5″ feedurl="http://healthy.hillbillyhousewife.com/feed" displaydescriptions=true end_item="
" start_item=""]
Frugal Tips
[RSSImport display="3″ feedurl="http://www.hillbillyhousewife.com/category/frugal-tips/feed" displaydescriptions=true end_item="
" start_item=""]
Do you have a tip to share? Fill out the submit a frugal tip form and I'll be glad to add it to the site and share your tip in an upcoming edition of the newsletter.
Recipes
Here are some of the most recent recipes that have been added to the HBHW site. Enjoy!
[RSSImport display="5″ feedurl="http://www.hillbillyhousewife.com/category/recipes/feed" displaydescriptions=true end_item="
" start_item=""]
Do you have a recipe you would like to share? Click here to send it to me and I'll be happy to add it to the website.
I'm Looking For:
This section is all about you. If you are looking for a particular recipe or a tip on how to do something, submit it here and I will post it in an upcoming newsletter. I'll give you my input and other readers of the newsletter will have the opportunity to share their recipes and tips as well. So take a moment to post your questions and of course if you have a tip or idea for any question posted in this section feel free to leave a comment under the appropriate post.
I'm Looking For Requests
[RSSImport display="20″ feedurl="http://www.hillbillyhousewife.com/category/newsletter/recipe-requests/feed" displaydescriptions=true end_item="
" start_item=""]
I'm Looking For Responses
Below you will find some of the recent responses to the "I'm Looking For" Requests. You may also want to go directly to this section and browse through all the recent submissions and replies. To do so, click on "I'm Looking for" here, and start looking through them.
[RSSImport display="20″ feedurl="http://www.hillbillyhousewife.com/comments/feed?cat=recipe-requests&withcomments=1″ displaydescriptions=true end_item="
" start_item=""]
Inspirational Story
The Beautiful Flower In The Broken Pot
~Author Unknown~
Our house was directly across the street from the clinic entrance of Johns Hopkins Hospital in Baltimore. We lived downstairs and rented the upstairs rooms to out patients at the clinic.
One summer evening as I was fixing supper, there was a knock at the door. I opened it to see a truly awful looking man. "Why, he's hardly taller than my eight-year-old," I thought as I stared at the stooped, shriveled body. But the appalling thing was his face, lopsided from swelling, red and raw.
Yet his voice was pleasant as he said, "Good evening. I've come to see if you've a room for just one night. I came for a treatment this morning from the eastern shore, and there's no bus 'til morning."
He told me he'd been hunting for a room since noon but with no success, no one seemed to have a room. "I guess it's my face… I know it looks terrible, but my doctor says with a few more treatments…"
For a moment I hesitated, but his next words convinced me: "I could sleep in this rocking chair on the porch. My bus leaves early in the morning."
I told him we would find him a bed, but to rest on the porch. I went inside and finished getting supper. When we were ready, I asked the old man if he would join us. "No thank you. I have plenty." And he held up a brown paper bag.
When I had finished the dishes, I went out on the porch to talk with him a few minutes. It didn't take a long time to see that this old man had an oversized heart crowded into that tiny body. He told me he fished for a living to support his daughter, her five children, and her husband, who was hopelessly crippled from a back injury.
He didn't tell it by way of complaint; in fact, every other sentence was preface with a thanks to God for a blessing. He was grateful that no pain accompanied his disease, which was apparently a form of skin cancer. He thanked God for giving him the strength to keep going.
At bedtime, we put a camp cot in the children's room for him. When I got up in the morning, the bed linens were neatly folded and the little man was out on the porch.
He refused breakfast, but just before he left for his bus, haltingly, as if asking a great favor, he said, Could I please come back and stay the next time I have a treatment? I won't put you out a bit. I can sleep fine in a chair." He paused a moment and then added, "Your children made me feel at home. Grownups are bothered by my face, but children don't seem to mind." I told him he was welcome to come again.
And on his next trip he arrived a little after seven in the morning.
As a gift, he brought a big fish and a quart of the largest oysters I had ever seen. He said he had shucked them that morning before he left so that they'd be nice and fresh. I knew his bus left at 4:00 a.m. and I wondered what time he had to get up in order to do this for us.
In the years he came to stay overnight with us there was never a time that he did not bring us fish or oysters or vegetables from his garden.
Other times we received packages in the mail, always by special delivery; fish and oysters packed in a box of fresh young spinach or kale, every leaf carefully washed. Knowing that he must walk three miles to mail these, and knowing how little money he had made the gifts doubly preciou s.
When I received these little remembrances, I often thought of a comment our next-door neighbor made after he left that first morning.
"Did you keep that awful looking man last night? I turned him away! You can lose roomers by putting up such people!"
Maybe we did lose roomers once or twice. But oh! If only they could have known him, perhaps their illnesses would have been easier to bear.
I know our family always will be grateful to have known him; from him we learned what it was to accept the bad without complaint and the good with gratitude to God.
Recently I was visiting a friend, who has a greenhouse, as she showed me her flowers, we came to the most beautiful one of all, a golden chrysanthemum, bursting with blooms. But to my great surprise, it was growing in an old dented, rusty bucket. I thought to myself, "If this were my plant, I'd put it in the loveliest container I had!"
My friend changed my mind. "I ran short of pots," she explained, and knowing how beautiful this one would be, I thought it wouldn't mind starting out in this old pail. It's just for a little while, till I can put it out in the garden."
She must have wondered why I laughed so delightedly, but I was imagining just such a scene in heaven. "Here's an especially beautiful one," God might have said when he came to the soul of the sweet old fisherman. "He won't mind starting in this small body."
All this happened long ago – and now, in God's garden, how tall this lovely soul must stand.
Final Thought
That's it for this edition of the Hillbilly Housewife Newsletter. I hope you've had as much fun reading it as I had creating it for you. I also hope that you have found the information helpful and useful. And by all means feel free to forward the newsletter to family and friends or even better, encourage them to subscribe to it.
Do you have a question, a tip, a recipe or a story you'd like to share with us? Email it to me and I'll include it in a future issue. Can't wait to see what you have to say.
Warm Wishes,
Susanne – The Hillbilly Housewife
Disclosure: Some of the links below are affilate links, meaning, at no additional cost to you, I will earn a commission if you click through and make a purchase.